Eby Emenike is a
female
player agent who has earned lots of acclaim in mainstream football and keeps doing so. Goal caught up with her to find out why
EXCLUSIVE
By Nana Frimpong
In the predominantly masculine
world of football
player management, one female has dared venture and successfully carve a niche that suits her lovable yet ethical personality quite snugly.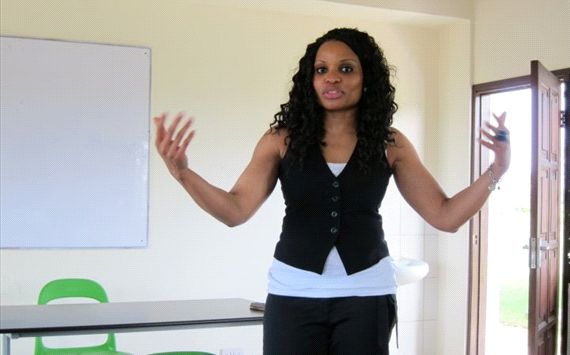 GORGEOUS |
The
Black Doll
is on the path to break more grounds
Indeed British-Nigerian Eby Emenike (no relation of the Super Eagles striker who bears the same surname) has defied the status quo and dug her high-heeled shoes deep into the trenches of a macho system and has successfully managed feats that few of her male colleagues would ever dare attempt; exploits like bridging the vast chasm between the sciences of football and chemical engineering, as well as finding a common wavelength of operation between a football club in England's North-East and another in Ghana's second-largest city. All these Eby has achieved under the rather unusual alias of being 'The Black Doll'.
Hearing Eby relate how she actually got into mainstream soccer is quite a story in itself.
"I set up a business with a colleague in 2006, working with Ghanaian footballers on the Public Relations and charity side of things," she narrated in a chat with
Goal
.
"In 2009," she continued, "I shifted focus to player management because I saw a few ways in which I believed I could help young players."
A year later, she took the agents' examination in England, passed, and received an FA-issued license.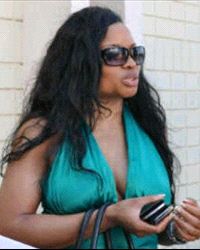 Subsequently, she split from her business partner and established TBD Management, under whose auspices Eby recruited the likes of Asamoah Gyan, Didier Drogba and Salomon Kalou for WASH United, a German NGO that promotes water sanitation and hygiene in Africa.
Growing up in a household with a father and sister who were huge fans of Leeds United - Leeds being Eby's city of birth and where she was raised for the most part - she always had a soft spot for the beautiful game, a spot eventually triggered by certain footballing acquaintances she made back at the University of Leeds. Eby, through her interaction with these players - mostly Africans like herself - came to realise there existed 'a gap', one that few of the players themselves were really conscious of yet which Eby, ambitious as she was, sought to bridge anyway.
Still, it took further prompting to fully psyche her up for the work, and she found that bit of inspiration during a period when she regularly visited Ghana - between 2006 and 2009 - while working with former Ghana captain Stephen Appiah's StepApp Foundation.
"Watching talented young players feature in the 'StepApp to Sports' series of charity games really piqued my interest. I enjoyed mentoring a couple of players who were scouted at the event, one being Selorm Geraldo, who spent a season at Red Bull Academy in Sogakope and is currently on the books of Dansoman-based Liberty Professionals in the Ghana Premier League."
That experience set Eby's little football heart ticking, and in the years that have followed she has done much to keep it so. More than a mere passion, however, Eby has considered her job a true mission; a mission to correct certain wrongs she had observed in the player agency/management business while surveying the field prior to venturing into it herself.
"Some agents sign players, collect fees, and then disappear without a trace. Others lie and feed their clients false/inaccurate information."
Eby cited an experience which well illustrates her point: "I once had a player confide that an agent had assured him he was actually better than one of the best players in the
English Premier League
and thus should not be playing in Ghana - just the kind of ego-stroking that could make a really desperate footballer act on every whim of a manipulative agent. I have also had players in first and second division teams approach me regarding how some fraudulent agent promised to bring them to the UK - a possibility that anyone well-versed in the business knows is practically non-existent primarily due to work permit restrictions."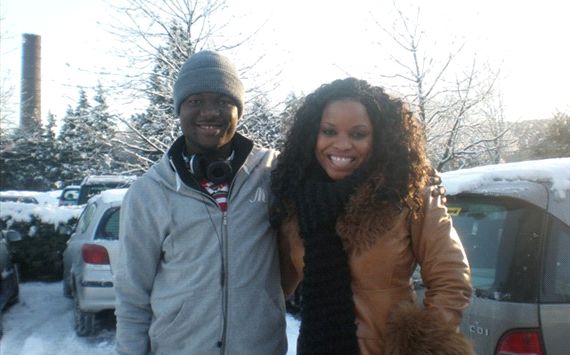 Indeed Eby has proved a cut above most by striving to live up to her lofty standards and doing so to brilliant effect, with the most outstanding example being the case of Finland-based Gideon Baah.
Baah had been a promising talent ever since he won the maiden edition of the MTN Soccer Academy in 2007, a football reality show that featured and groomed some of the best football talent in Ghana. By 2010, he had established himself as first-choice left-back for record Ghana league champions Kumasi Asante Kotoko via transits at Zaytuna and Stay Cool Professionals. Just when Baah seemed ready to hit
his
stride, however, disaster - of the worst kind any footballer could imagine - struck.
In March 2010, Baah suffered a terrible injury when the Porcupine Warriors played archrivals Hearts of Oak in a derby. At the time, it seemed a promising career had withered even before it truly blossomed, and few doubted Baah would even recover fully, talk less of reviving his football.
A 20-month-long period drenched in blood, sweat, and tears ensued, and at the very beginning of it all, Eby stepped in and swiftly catalyzed what had thus far been a painfully dragging process, guiding Baah every step of the way. She recounted how she chanced on Baah in the first place, and with much nostalgia.
"He was recommended to me by an old school friend whose aunt went to church with Gideon's. I was told he had been badly injured but would be back on the field within three months. Research I did on him yielded some positive results and thus I requested that he contact me when next I was in Ghana."
Apparently, Baah's likeable personality proved as much a lure as the sheer tragicness of his story, and Eby found it out to be quite so.
"When I met him - aided by crutches and with his injured limb cast in Plaster-of-Paris (PoP) - I took to him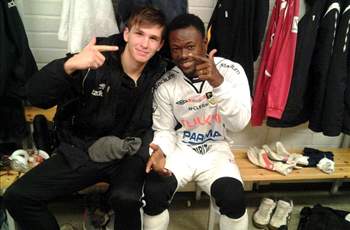 "Some agents sign players, collect fees, and then disappear without a trace. Others lie and feed their clients false/inaccurate information"
instantly. In spite of the gloomy present and uncertain future, Baah's humility, determination and strength quickly shone through.
"I went back to the UK and started putting a plan into action to get him back on his feet. To start with, I got in touch with Kotoko and Dr. Awariyah - the physician at the Komfo Anokye Teaching Hospital who performed Baah's required surgeries - and eventually secured for him a trip to Hearts of Midlothian FC in 2011 so he could benefit from the Scottish club's well-resourced physiotherapy department."
After the grim narration, however, came the happy 'climax' to the Baah story which Eby recounts with all the satisfaction of a lady who considers her job quite well done.
"It gives me so much joy to observe just how far he has reached in terms of his recuperation, coupled with the thrill of watching him play in the Europa League this year. Quite a few people told me he had 'had it' and that he could never - emphasis on 'never'- recover from such an injury. All that kind of talk just strengthened my resolve to keep supporting him and 'bring him back'."
Back from the dead, as it were.
After Baah had been nurtured back to optimum health and fitness, Eby felt the need to go a step further with him. In his absence, Baah's place at Kotoko had been taken by another and thus the need to find a club where he would be guaranteed greater opportunity. In a wholly unprecedented move, Eby successfully scouted and found Baah a loan deal with an European club, FC Honka of Finland, where the guardsman has proved so successful his transfer has recently been made permanent and now even - as Eby inferred earlier - features in European competition.
That's all, then?
Hardly.
To Eby, Baah isn't yet the finished product. She foresees Baah reaching greater heights and seemingly has plans firmly in place to help him realise those goals. But, of course, she prefers to keep her cards close to her chest and isn't prepared to let too much away yet. The most she can utter at present is urge fans of Baah to "watch this space and keep supporting him."
We sure will, Eby.
Quite a few people told me he had 'had it' and that he could never - emphasis on 'never'- recover from such an injury. All that kind of talk just strengthened my resolve to keep supporting him





- Eby
Her dealings with Baah earned Eby direct contact with officials of Kumasi Asante Kotoko, thus laying the grounds for arguably her greatest coup yet: the landmark partnership between Kotoko and England's Sunderland that she struck.
Again, Eby has the inside story on this one, but wouldn't disclose it till our next session. Watch this space for part two. ---------------------- goal.com