The Rossoneri salvaged a point at the Renato Dall'Ara, but the suspicion remains that their trainer will be blamed for their poor Serie A start
COMMENT
By Mark Doyle in Bologna
After
AC Milan
scored two late goals to snatch a 3-3 draw at
Bologna
on Wednesday night, it was tempting to conclude afterwards that
Massimiliano Allegri
had just got out jail. However, it felt like nothing more than a stay of execution for a coach who has worn the look of a dead man walking for some time now.
The
Rossoneri
, of course, made a dreadful start to last season, losing five of their opening eight games, and even though they rallied to clinch third place – and the vital Champions League berth that comes with it – rumours were rife during the early part of the summer that Allegri's days at the Giuseppe Meazza were numbered.
It quickly became clear that Milan owner Silvio Berlusconi had his heart set on bringing in former midfield ace Clarence Seedorf as his replacement, with Roma ready to offer Allegri the opportunity to restore some order to the Stadio Olimpico. In the end,
Rossoneri
CEO Adriano Galliani managed to persuade the former Italian Prime Minister to retain the services of a coach who had led the club to the title just two years previously. However, it always felt like a temporary compromise between the two most powerful figures at San Siro. And now more so than ever.
SERIE A DAY 5: CHIEVO CONTROVERSY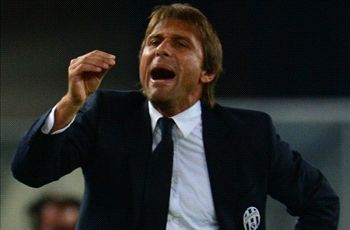 While Juventus left Verona with their unbeaten start intact, their 2-1 victory over Chievo came with more than a hint of controversy.

After Fabio Quagliarella had cancelled out Cyril Thereau's opener, Alberto Paloschi had seemingly put the home side back in front after mopping up a dreadful spill by Gianluigi Buffon.

However, a rogue flag from the assistant referee curtailed Paloschi's celebrations and proved to be the game-changer.

The former Milan striker had been clearly onside when the original shot had been struck, with only the inactive Thereau beyond the last defender.

That Juve soon netted a winner thanks to Alessandro Bernadini's own goal only compounded Paloschi's and Chievo's anger.

Yet again, the incompetence of officials in Italy has been thrust into the spotlight.

- Kris Voakes | Goal International
While Milan have already managed to negotiate a tricky Champions League play-off with PSV this term, they are now struggling again domestically. Wednesday night's draw has left them 12th in the table, with just five points from five games. Truth be told, they are lucky to be that high in the standings, given they also needed two late goals to snatch a draw at Torino in week three.
In Allegri's defence, a squad that was not adequately strengthened over the summer has now been decimated by injuries to key players, including Riccardo Montolivo, Mattia De Sciglio and Stephan El Shaarawy, as well as the returning Kaka. In that context, Mario Balotelli's petulant dismissal after the final whistle in Sunday's 2-1 defeat at home to Napoli was the last thing that Allegri
needed.
The 46-year-old trainer has remained admirably upbeat in recent weeks and even after Saturday's defeat at San Siro he insisted that "this squad has a great chance of fighting for the top places".
And one cannot deny that Milan are fighting. It was sheer grit that got them through last week's Champions League opener against Celtic. It was pure pigheadedness that earned them draws at Torino and Bologna. Allegri, therefore, deserves enormous credit for having managed to maintain such a commendable resilience in such difficult circumstances.
However, one wonders if even he is now having doubts over whether Milan can once again recover from a slow start to qualify for the Champions League. Indeed, it was telling that just three days after saying he was unconcerned by the gap that had opened up to the early leaders Roma and Napoli, he admitted in his post-game interview in Bologna that "finishing in the top three will not be easy".
That is undeniably true, for two reasons, both of which are related to quality. Firstly, Milan do not have enough of it. As Allegri admitted: "We have got to improve in defence, but also in attack." He may as well have added in midfield, too, because the
Rossoneri
currently look weak all over the park.
Secondly, the standard of the opposition has stepped up a notch this year. That champions Juventus are among the early frontrunners is wholly unsurprising, while it was always likely that Napoli and Fiorentina would challenge for the
Scudetto
this term in light of a string of stellar summer signings that cast Milan's parsimony in such an unfavourable light.
However, that Inter and Roma have also hit the ground running under their respective new coaches, Walter Mazzarri and Rudi Garcia, has only intensified the pressure on Allegri, not least because it suggests that the battle for Italy's three Champions League berths will be more competitive than it has ever been before. In that context, even a repeat of the stunning run Milan embarked upon during the second half of last season looks distinctly unlikely to reap the same rewards.
When one considers just how much importance Galliani attaches to being in the Champions League every year, Allegri could quickly find himself shorn of the support of his most important ally in the Milan boardroom. Indeed, while the
Rossoneri
coach defiantly declared on Wednesday evening that "before Christmas we will be in a different position", the question now is whether he will still be in his. -------------------- goal.com