The Fenerbahce striker is enjoying a
purple patch
with the
Super Eagles
and seems to be relishing the pressure
ANALYSIS
Babajide Alaka | Deputy Editor
With 10 goals in 17 Nigeria matches,
Fenerbahce
striker
Emmanuel Emenike
has shown with that he is ready to take on the goal scoring responsibilities for the national team.
He is steadily proving to all and sundry that he is very capable of leading the line for the national team and people are starting to dream again after the Super
Eagles team
of 1994 that was headlined by the goal scoring phenomenon, Rashidi Yekini.
The last striker to have made such an impact on the national team was the late Yekini, who scored 37 in 58 matches – an average of 0.64 goals per game. This compares favourably with Emenike's, which stands at 0.58; though it must be said that at the early part of his Eagles
career
, Yekini's average was closer to 0.4, a number which Emenike's stats currently dwarfs.
A team realizes that they have a potent striker when they find that player who contrives to almost always score the most important goals for the team – either the opening goal against a particularly stubborn team, or drags
his
team back into contention with an equalizing goal. It is much better when he scores the winner in a tight contest.
SEASON BY SEASON STATS
| | |
| --- | --- |
| | EMMANUEL EMENIKE | GOAL SCORING STATS |


MORE ON
EMMANUEL EMENIKE

| | | | | | |
| --- | --- | --- | --- | --- | --- |
| Club | Season | Games | Subs (ON) | Booked | Goals |
| Karabukspor | 2009-2011 | 50 | 3 | 8 | 30 |
| Spartak | 2011-2012 | 22 | 2 | 4 | 13 |
| Spartak | 2012-2013 | 16 | 2 | 4 | 5 |
| Spartak | 2013-2014 | 4 | 2 | 0 | 3 |
| Fenerbahce | 2013-2014 | 6 | 2 | 1 | 0 |
| Total | | 98 | 13 | 8 | 51 |
| Nigeria | 2011 -2013 | 17 | 1 | 2 | 10 |
All these attributes, Emenike has shown in the last two competitive matches for the Eagles. When the Flames of Malawi were proving a handful for the Eagles in Calabar last month, Emenike popped up to score the opening goal on the dot of half time to ensure that the Eagles were more relaxed going into the second half.
Then last Sunday, he really blared his entry into Nigerian football hearts with the equalizing goal against Ethiopia in the thin air of Addis Ababa and then he scored the winner to almost guarantee the Eagles passage to the 2014 World Cup in Brazil.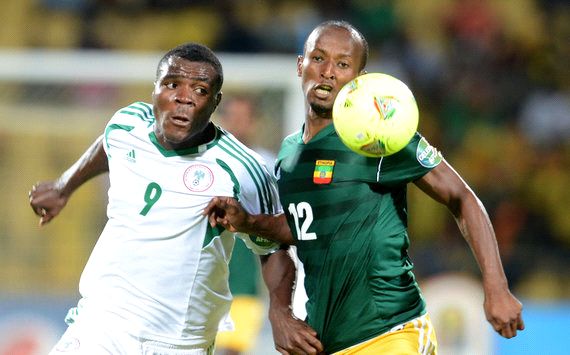 EMMANUEL EMENIKE COULD BECOME A GOAL A GAME STRIKER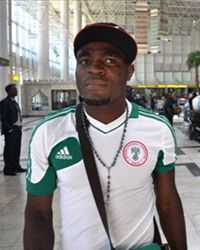 "And you could see the last 40 minutes we went to them and they could not play anymore"Emenike after his brace beat Ethiopia 2-1

Emenike always has been a very confident individual, bordering on arrogance but he seems to have the requisite skills and temperament to become a very successful striker either with his club or with the Super Eagles.
After the game last Sunday in Ethiopia, Emenike said: "I'm so happy for the game, I'm really happy."
"They played very well in the first half but we came out in the second half and said let's [take the game] to these guys. And you could see the last 40 minutes we went to them and they could not play anymore," he added.
Words spoken from a supremely confident individual and the world knows one or two of the type who believe so much in their own ability and capability that their opponents term it as arrogance. Though it is a quality that the best always seem to possess in abundance and Emenike is not shy either.
We have to also say that he was a handful for all the countries the Eagles played at the Nations Cup in January, where he was the top striker with four goals in five matches. Before, he moved to Turkey from Spartak Moscow in the 2013/14 season, he had scored three goals in four matches. And in his career, he has managed 55 goals in 121 matches. And like they say, a very good striker's average is one goal per two games but the objective for Emenike will be to turn that average to one goal per game for his club and the national team – then he will have created his own legacy and entered the pantheon of the greats.
For the moment, we can only wish him the best of luck in front of goal. ---------------- goal.com