The super star of
Italian football
needs to make tough choices in order to have a fulfilling career that has been dogged by controversy
SPORTS PSYCHOLOGY
By Jide Ayegbusi
It is no longer news that Mario Balotelli would miss out in AC Milan's game against Juventus. The three-match inactivity as you know isn't borne out of injury but out of the 23-year-old's absurd confrontation with the referee following the
Rossoneri's
2-1 loss to
Napoli,
and picking up a second
yellow card
for dissent in the process.
Balotelli has long earned a reputation in the media for being a problematic character who relishes taking part in controversial activities. In fact, he was once described by Jose Mourinho as "unmanageable." It would daze you to know that the behaviourist Mourinho could not curtail the anti-social, anti-sports or better still maladjusted behaviour of the striker while in charge of Inter.
In
his
second season with Inter, Balotelli had a number of disciplinary problems, most markedly involving head coach Mourinho who at a time excluded him from the
first team
in the second half of January 2009.
At
Manchester City
, the media were increasingly profiting from his anti-social behaviour as he regularly made the headlines. Within days of joining the Citizens, Balotelli was involved in a car crash. It was reported that Balotelli was carrying £5,000 cash at the time – and that when a police officer asked why he had such a huge sum of money, Balotelli replied: "Because I am rich". It was also reported that Balotelli drove into a women's prison in Italy to "have a look round". He has also been caught throwing darts at a youth team player during a training ground 'prank'.
What about training ground disputes? Balotelli was not new to this at the City of Manchester. He was involved in multiple instances of training ground disputes, clashing with team-mates Jérôme Boateng, Vincent Kompany, Aleksandar Kolarov, Micah Richards and former manager Roberto Mancini.
There was also a time Balotelli turned the garden of his Manchester home into a racetrack for quad bikes.
The controversial Balotelli himself later confirmed his anti-social behaviour when he celebrated his goal against Manchester United in October 2011 by unveiling a shirt with the words: "Why always me?". The day before the match, Balotelli and his friends set his house on fire when a firework was let off in it.
In December 2011, Balotelli broke a 48-hour curfew before City's game against Chelsea to go to a curry house. Even though it was claimed that the player was not drinking alcohol, signed autographs, posed for pictures with fellow diners and involved in a mock sword-fight using rolling pins, the club launched an internal investigation.
In July 2012, Balotelli's former on-and-off girlfriend, Raffaella Fico claimed that she was pregnant with his child. Fico's daughter Pia was born on 5 December 2012. Raffaella accused Balotelli of being 'irresponsible' and 'not interested' in his newborn baby daughter. He later issued a statement that he has no intention of shirking his paternal responsibilities if she has proof he is the father.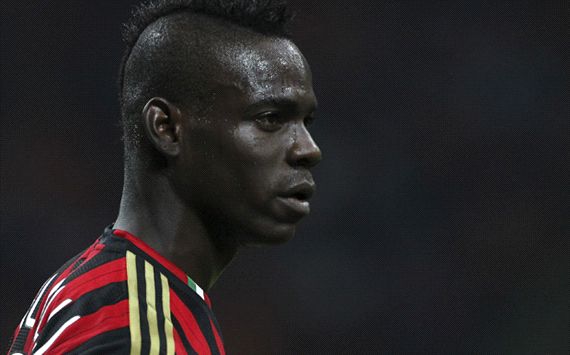 Balotelli made an unexpected appearance at Andrea Stramaccioni's first press conference as Inter Milan coach on March 2012 while still a player of Manchester City. He nonchalantly entered the press room, before proceeding to the interview podium to shake Stramaccioni's hand and those of other people at the podium before leaving the press conference amidst some laughter from the audience.
Time would unhesitatingly fail me if I continue to cite instances of Balotelli's fouls off and on the pitch.
Having said all these, one question that has remained unanswered is: Why always Balotelli?
Well, for some time now, there has been a lot of research and findings by psychologists as per what might be the likely causes of delinquent or anti-social behaviour among youths.
"Delinquency' is ostensibly a simple concept, referring to unacceptable behaviour, and most commonly to unacceptable behaviour by young people. However, while it is widely understood in general terms, there is little precision over exactly what it entails. Firstly, it is not exclusively about the behaviour of young people – as the occasional prefix of 'juvenile' shows. Secondly, it is sometimes used to refer to law-breaking, and sometimes to legal behaviours that are perceived as 'unacceptable' according to Caroline Paskell, a criminologist.
If studies on delinquency are anything to go by, then Balotelli's case might not be far from such. It has been confirmed that adolescent boys engage in more delinquent behavior if there is no father figure in their lives. That is if children were separated from their biological parents, it might result to delinquency. In a particular study, the unsocialized aggressive children were found typically to have a background of family instability and overt parental rejection from birth or infancy. There was also an evidence of a gross lack of a normal experience of being mothered.
This fact accentuates how Balotelli was raised. Mario Balotelli was born in Palermo, to immigrants from Ghana but adopted by the Balotellis who earlier fostered him. When he became famous, his biological parents asked for his return. He accused them of "glory hunting", stating that they only wanted him back because of the prominence he had gained.
Another possible cause of delinquent behaviour is social exclusion. In Balotelli's case, it might be racism. Social exclusion relating to racism is sure to cause delinquency if there is no proper orientation of the victim.
Recall that when Balotelli was at Inter, he became the subject of racist chants throughout the season, becoming the focus of Juventus fans even during games not involving Inter, leading to Juventus being fined twice and the club ultimately punished with a partial stadium closure. Before Euro 2012, Balotelli was quoted saying "throw banana and die." This in effect suggests his racism experience.
In addition, alcohol, smoking and even peer pressure can result into delinquency. Balotelli has a close relationship with alcohol. He smokes and clubs a lot - behavior not uncommon with delinquents. Although, he recently renounced his relationship with alcohol, only time will tell if he has made up his mind. As regards peer group, Balotelli has been known associate with questionable peers. In June 2010, he and a group of friends fired air pistols in the open in Milan's
Piazza della Repubblica
. He was also photographed in the company of two noted Mafia mobsters.
The fact that Balotelli needs help to change cannot be overemphasized.
In fact, Allegri recently commented on the player's last misdemeanor saying: "Mario has made a mistake, penalizing the team, club and the fans and he must change this" The Milan boss continued: "Mario is 23 years-old, he is no longer a child and to be a champion you have to have a correct behaviour because you are an example for all those who look up to you".
We do sincerely wish the promising and talented player well and believe the "unmanageable" would change his ways and have his murky record cleared. -------------------- goal.com