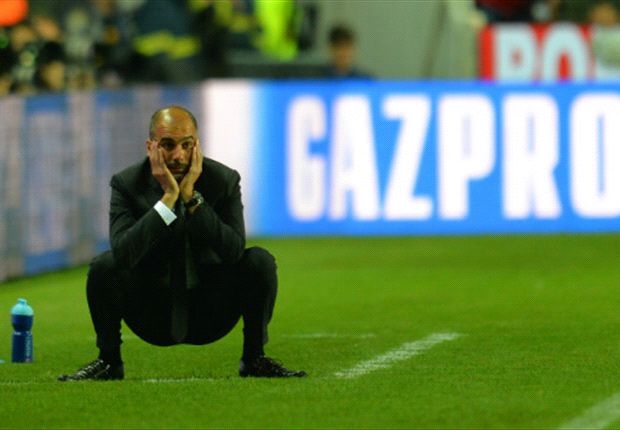 The
Manchester City
manager is yet to beat his counterpart in eight attempts - picking up just one point in the process - but the Bayern boss insists the Chilean must be lauded
Pep Guardiola
has praised
Manuel Pellegrini
's tactical approach ahead of
Bayern Munich
's trip to
Manchester City
in the
Champions League
on Wednesday.
Both trainers joined their current sides during the summer, but did face each other when the Spaniard was head coach at Barcelona and
his
counterpart was at Villarreal, Real Madrid and Malaga.
Guardiola is yet to lose to the Chilean - with seven wins and draw to his name - but insists the City
manager
's methods must be lauded.
"The record against Pellegrini is not important. I am really impressed with him as a coach - I would like to be like him," Guardiola told reporters.
"No matter which team he is training, the team is always playing the same way. His footsteps, his trademark, are always there. He loves playing football.
"It happened at Villarreal, Malaga and Real Madrid, and if I beat him all the time, it was because I was coach of one of the best teams in the world and in the history of Barcelona.
"For me it is always a pleasure to play against Manuel, because he loves to play the right way - he always tries to keep the ball, his teams always keep possession and try to play football.
"Of course it is about winning, but I want to help my players play the best football as possible, and to play in the best way too.
"I want people to enjoy the way we play. I want us to win in the right way. Pellegrini does that, he loves to play in the right way, and I admire that."
Meanwhile, Pellegrini will be setting his stall out to beat Bayern after a comfortable win over Viktoria Plzen two weeks ago, and does not expect his past record against Guardiola to matter on Wednesday.
"I know Bayern are a very strong team, but I believe we are also very good at the moment and so we can get the points here," said Pellegrini. "We go with one aim - to win. We never think of a draw. From the first minute, the aim will be to win.
"I am not concerned about my record against Guardiola. He is a great coach, one of the best, but I cannot play against him.
"It will be Manchester City against Bayern
Munich
, and they are both very good teams. The past is the past, and it is not about me and Pep Guardiola, it is about which team is best on the night.
"The most important players must appear in the most important games, and normally, that is the key to winning." --------------------- goal.com