Goal chronicles the key numbers that have marked the
Nigeria
U-17 participation at the Fifa World Cadet championship
SPECIAL
By Shina Oludare
As the Nigeria U-17 team prepares to challenge for a
fourth world
title at the 15th edition of the Fifa U17 World Cup taking place in the
United Arab Emirates
,
Goal
gives an account of the Golden Eaglet's outing in this competition's history in numbers.
0
- Least number of goals conceded by Nigeria in a tournament, this feat achieved at the Scotland 89 U-17 World Cup remains the only outing where Nigeria have kept a
clean slate
. Unfortunately, Sebastian Broderick's team did not make this impressive record count as they failed to get past the quarter finals after losing to eventual winners, Saudi Arabia on penalties.
1
- The number of times Nigeria hosted the U-17
world championship
. This was achieved in 2009 as Nigeria finished second no thanks to their defeat in the hands of the Swiss team at the Abuja National Stadium. They became the second African country to host this tourney after Egypt staged it in 1997.
3
- The number of titles won by Nigeria at this championship.
4
- Times Nigeria have failed to make it to the world stage. Their first black-out was at the edition staged in Italy in 1991 followed by their absence in Egypt 1997 before missing out of the 1999 and 2005 editions hosted by New Zealand and Peru respectively.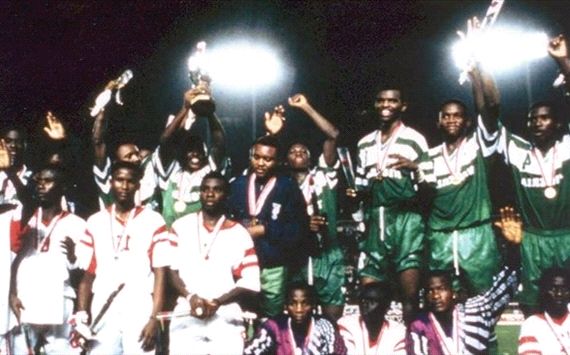 Victorious Nigeria at Japan 1993

5- Argentina is the country to have faced Nigeria at this level of competition on most occasions with the Golden Eaglets triumphing three times while they lost and drew once each against the South Americans.
7
- Most goals scored by a Nigerian in a single tournament. This feat was achieved by Chrisantus Macaulay at the 2007 edition hosted by South Korea. This achievement got him the golden boot award of the same tournament.
11
- On the 11th of August 1985, Nigeria won the inaugural edition of the championship hosted by China after defeating Germany in the final played in Beijing.
20
- Most goals scored in a tournament. This was achieved at the Japan 1993 championship where Fanny Amun's Eaglets ran riot against all opposing teams to win their second title. Whereas, at Finland 2003, Nigeria recorded their least number of goals with three strikes from three games.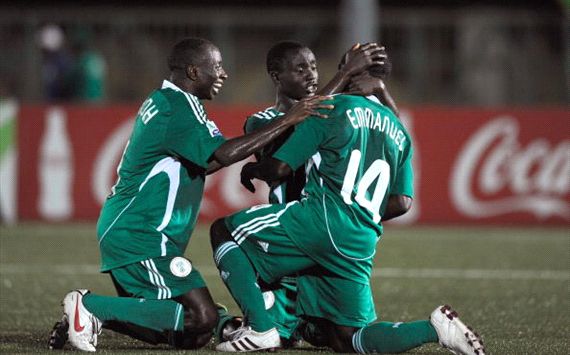 Sani Emmanuel celebrates a goal at Nigeria 2009

34
- The number of games Nigeria have won in 9 FIFA U-17 World Cup tournaments, a record among African teams. It is six short of the all-time record held by Brazil. On the other hand, they have lost just five matches while they have secured a draw 10 times.
48
- Nigeria have bagged these number of yellow cards in their history of participating at the Fifa U-17 World Cup.
49
- The number of games Nigeria have played at Fifa U-17 World Cups, making them one of the highest playing sides in the history of the competition.
100
- The total number of goals Nigeria have scored in all Fifa World U-17 championships they have participated in. Little wonder they are the highest scoring side in the history of the competition. Also, they have conceded 33 goals in the same number of outings. ------------------- goal.com