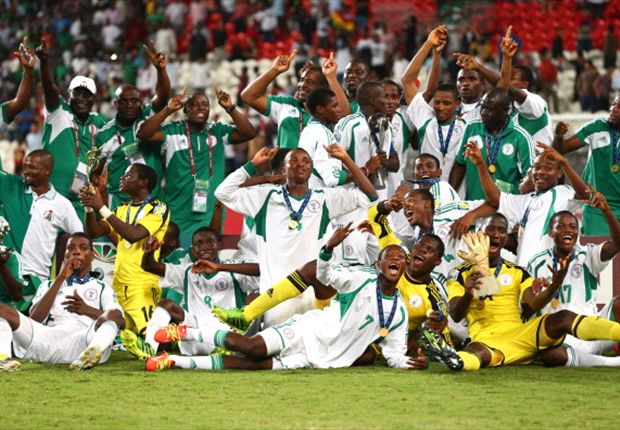 Ghana v Nigeria: The numbers that prove who is Africa's best at youth level
With their thrashing of Mexico in Friday's Fifa U-17 World Cup final, Nigeria have shown why they are the best in the world. Goal examines one facet of their dominance
ANALYSIS
By Sammie Frimpong
With respect to excellence in youth football, Ghana and Nigeria are Africa's torchbearers, with the latter being the latest of the duo to assert its might after claiming the ultimate at the just-ended Fifa Under-17 World Cup in the UAE.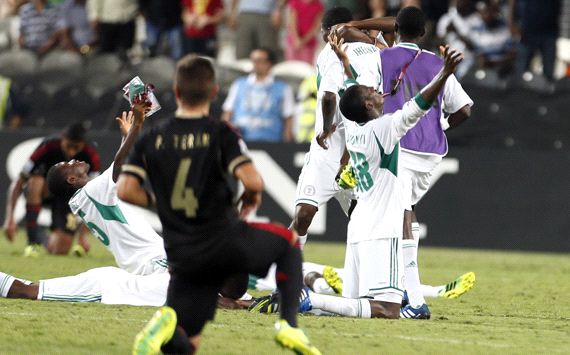 CHAMPIONS |
The Super Eaglets are the 2013 U17 world kings
Occasionally, the likes of Cote d'Ivoire, Mali, and Egypt do make a statement of sorts, yet the status quo has always been the reserve of the two west African giants. Generations of senior sides for both countries have been built on the back of huge feats at junior level, with the likes of Nwankwo Kanu, Samuel Osei Kuffour, Austin Okocha and Michael Essien all emerging from talent factories so fecund.
There arises the million-dollar question, though: which of the pair - between Ghana and Nigeria- is better, if not necessarily more productive, at international youth football?
Goal seeks to answer as accurately as possible, using the simplest of statistics.
THE CRITERIA
As a measure of determination, the key to these comparisons is to credit two points for each title won at continental level, and one less for a runner-up finish. A championship triumph on the global stage fetches three points, a finalist slot two, and a bronze-winning campaign gets one. Multiply the deserved point(s) by how often a country has achieved a particular feat, add up, compare the final tallies and, Voila! *
So, then, shall we?
U17s
At U17 level, Nigeria are the top dogs on the international stage, underscoring that very fact with a convincing victory against Mexico on Friday. That conquest puts them on four titles, one better than Brazil and, even more crucially to this analysis, two ahead of Ghana. Nigeria have made the finals thrice more but lost. Comparatively, Ghana are not too far behind. In fact, had the Black Starlets been successful on the two other occasions they made the finals (1993 & 1997), they would have counted as many U17 world titles as Nigeria, and perhaps prop their cause up with the bronze secured from New Zealand 1999.
However, the Eaglets' dominance is not so pronounced on their home continent, with their two titles matched equally by Ghana and being just one losing finalists' spot better.
At the end of 'Round One', the scores read as calculated below:
GHANA
- AFRICA (WINNER): 2x2〓4
" " (FINALIST): 1x1〓1
4+1〓5
GHANA - WORLD (GOLD): 2x3〓6
" " (SILVER): 2x2〓4
" " (BRONZE): 1x1〓1
6+4+1〓11
SUM
: 5+11〓16
NIGERIA
- AFRICA (WINNER): 1x2〓2
" " (FINALIST): 2x1〓2
2+2〓4
NIGERIA - WORLD (GOLD): 4x3〓12
" " (SILVER): 3x2〓6
" " (BRONZE): 0x1〓0
12+6+0〓18
SUM
: 4+18〓22
U20s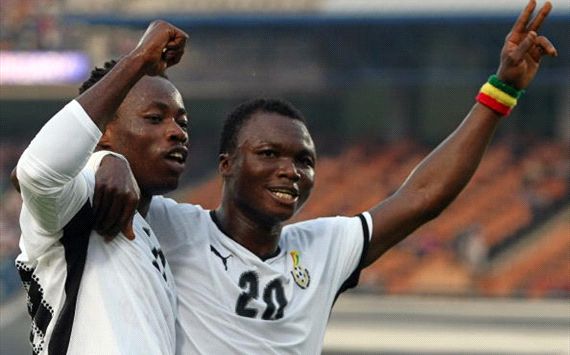 BREAKING GROUNDS |
Black Satellites conquered the world in 2009
Nigeria have been twice as successful as Ghana has at the African Youth Championships - six titles to three - and have been at par with their neighbours in finishing second, with two silver wins apiece. Only in 1999 did the rivals contest the final, and Ghana, then managed by Italian Giuseppe Dossena, emerged victors by a solitary Laryea Kingson goal in Accra. At the U20 World Cup, Ghana have claimed four podium finishes - once in third-place, twice as runners-up, before picking Africa's sole world crown four years ago - in six appearances. Nigeria, on the other hand, have achieved all that Ghana have but the title.
GHANA
- AFRICA (WINNER): 3x2〓6
" " (FINALIST): 2x1〓2
6+2〓8
GHANA - WORLD (GOLD): 1x3〓3
" " (SILVER): 2x2〓4
" " (BRONZE): 1x1〓1
3+4+1〓8
SUM
: 8+8〓16
NIGERIA
- AFRICA (WINNER): 6x2〓12
" " (FINALIST): 2x1〓2
12+2〓14
NIGERIA - WORLD (GOLD) : 0x3〓0
" " (SILVER): 2x2〓4
" " (BRONZE): 1x1〓1
0+4+1〓5
SUM
: 14+5〓19
U23s
Things are a little more balanced title-wise at continental U23 level where each nation has managed one triumph in five participations at the All African Games. Only when silver medals accumulated at the tournament are factored in do Nigeria distinguish themselves, edging this particular count 2-0. In the larger picture, Nigeria increase their advantage with some five points from fine performances at the Olympics football tournament; three from winning the Atlanta 1996 edition, and another two from finishing next to Lionel Messi's Argentina in Beijing half-a-decade ago. Ironically, the only medal Ghana can boast of - bronze won by that ridiculously talented batch of Black Meteors at Barcelona 1992 - was that which put Africa on the Olympic football podium for the first time. That said, it fetches them no more than a point. Now let's see how that adds up to give us our final, almost conclusive figures:
GHANA
- AFRICA (WINNER): 1x2〓2
" " (FINALIST): 0x1〓0
2+0〓2
GHANA - OLYMPICS (GOLD): 0x3〓0
" " (SILVER): 0x2〓0
" " (BRONZE): 1x1〓1
0+0+1〓1
SUM
: 2+1〓3
NIGERIA
- AFRICA (WINNER): 1x2〓2
" " (FINALIST): 2x1〓2
2+2〓4
NIGERIA - OLYMPICS (GOLD): 1x3〓3
" " (SILVER): 1x2〓2
" " (BRONZE): 0x1〓0
3+2+0〓5
SUM
: 4+5〓9
GRAND TOTAL - GHANA
: 16 + 16 + 3 〓 35
GRAND TOTAL - NIGERIA
: 22 + 19 + 9〓50
CONCLUSION
Ghana's successes at youth football level cannot be understated; they might be third, fourth, or even second best in the world. On home turf, though, they do not seem to run their neighbours close enough. Nigeria are clearly on top, a full 15 points ahead and trumping the Ghanaians on each count, per the units of measurement applied in this analysis.
So maybe statistics are a bit like mini-skirts.
Maybe they do reveal everything.
Well done, 'Naija'. ------------------ goal.com
Of course Naija is better than Ghana on every level, its a no contest if you ask me...