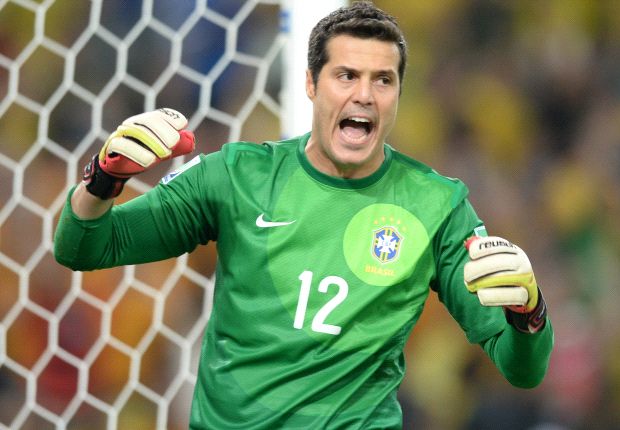 Julio Cesar: We proved our strength once again
The Brazil goalkeeper was impressed with his side's display as they beat South Africa 5-0 at Soccer City and says the Selecao are looking good with 99 days until the World Cup
Brazil goalkeeper Julio Cesar believes Wednesday's Gillette Brasil Global Tour victory over South Africa was another sign of the Selecao's strength ahead of World Cup 2014.
Goals from Oscar, Fernandinho and a Neymar hat-trick saw Luiz Felipe Scolari's side stroll to a comfortable 5-0 victory in Johannesburg.
And the Toronto FC custodian believes the team is looking good with just 99 days until the big kick off in Brazil.
"Considering we're not playing the [World Cup] qualifiers, I think we're in a very good shape," said Julio Cesar.
"Of course, there's still a lot to improve. We gave [South Africa] a lot of chances and they couldn't take them.
"But overall it was good. It was good to see Rafinha and to Fernandinho," who were making their first appearances for Brazil under Scolari.
"Many will say that Brazil scored so many goals because we faces a weak side," Cesar added, "but that's not true. We proved our strength and made the game our own."
The victory was Brazil's last friendly before Scolari summons his 23-man World Cup squad on May 7. ---------------- goal.com