The Barcelona star hit a hat-trick on Wednesday to take his total to 30 goals for Brazil, surpassing the likes of Kaka and Careca in the country's all-time list of top scorers
Neymar will make his World Cup debut this year and, at just 22 years old, the Barcelona forward is likely to define the fortunes of his Brazil side as they bid to claim their first world title on home soil.
BRAZIL'S ALL-TIME TOP SCORERS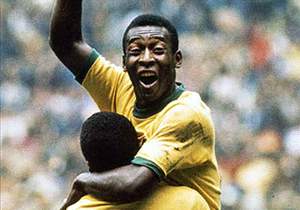 1. Pele - 77
2. Ronaldo - 68
3. Romario - 55
4. Zico - 48
5. Bebeto - 39
6. Rivaldo - 34
7. Jairzinho - 33
8. Ronaldinho - 33
9. Ademir Menezes - 32
10. Tostao - 32
11. Neymar - 30
12. Zizinho - 30
But they appear to be in good hands. His hat-trick in the 5-0 Gillette Brasil Global Tour victory over South Africa took his international tally to 30 goals in just 47 matches for Brazil. That puts him 11th on Brazil's all-time list of leading scorers.
He has already surpassed legendary
Selecao
stars such as Careca and Kaka. The latter has scored 29 goals for Brazil and contested three World Cups.
Pele leads Brazil's scoring chart with 77 goals for his country. Ronaldo is second with 62, while 1994 world champion Romario is third with 55.
Neymar has now equalled the total achieved by Zizinho, one of the stars of the 1950 side that ultimately failed to claim the trophy last time it came to Brazil.
The next leading scorer in the current squad is Fred, who has 16 goals in 32 matches.
Wednesday's victory was Neymar's 47th match since World 2010.
He holds the record for the most appearances by a Brazilian player between World Cup tournaments, with the next best being Pele, who managed 36 prior to World Cup 1970. ----------------- goal.com