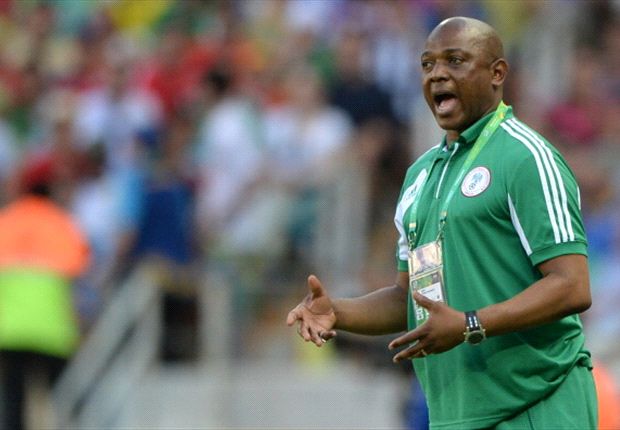 Stephen Keshi proves to be adaptable in the quest for Perfect Nigeria
Goal Nigeria look at the tactics used by the Big Boss in the recent friendly against Mexico, exploring the advantages of the manager's change in approach
ANALYSIS
By Solace Chukwu
Well, that was distinctly underwhelming…
The latest iteration of the
Mexico
vs.
Nigeria
saga failed to live up to its previous incarnations, with little of the entertainment value and/or goals of past encounters. With hindsight, perhaps we should have seen this coming.
Mexico boss Miguel Herrera used the game to familiarise himself with, and re-introduce the European contingent of players into
El Tri
's ranks with the World Cup on the horizon. Stephen Keshi defied the expectations of many by going mostly with the familiar: only Michael Uchebo got his debut from the start. However, with many of the team's top dogs struggling for game time in Europe, it was hardly going to be a goal-fest or a particularly fluid performance.
Most interestingly, he played a system never before seen during his tenure: a 4-4-1-1 with a deep central midfield and blistering pace on the flanks, and retained this till the second half before reverting to his trusty 4-3-3.
While there were no goals to show for it, this surprise tactical change was quietly effective. The Super Eagles were much the better side in the first half, creating the better opportunities by standing off in a compact shape, before pressing on halfway and countering at pace.
Ahmed Musa's speed was a menace, though the same could not be said of his decision-making; while Victor Moses showed rust, as was expected, but no significant loss of confidence.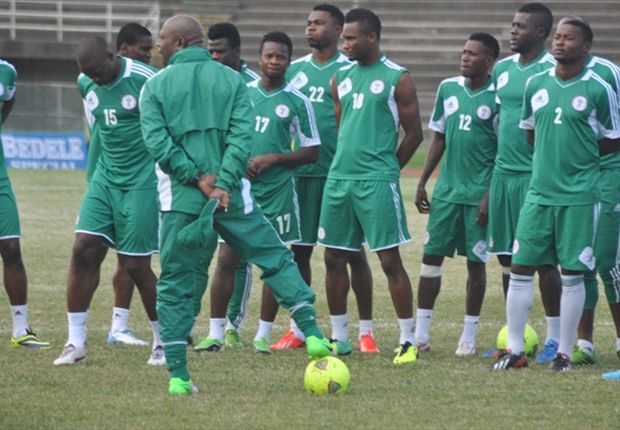 Keshi | Explores the options within his ranks
This decision has been hailed as a sign of the Big Boss's tactical flexibility and his willingness to try something different in preparation for the varied challenges that lie in wait in Brazil. No one seems to be considering the possibility that there is more to this than just experimentation. This is not AN idea, it is THE idea: the emergence of the Super Eagles as a counter-attacking machine.
Consider the situation at hand, the riddle that has confronted coach Stephen Keshi since the victorious Africa Cup of Nations campaign in 2013. Midfielder Sunday Mba, then based in Nigeria, flush from scoring the winner in the final game against Burkina Faso, spent the rest of the year unsure of who his employers were. He played next to no football, but retained the confidence of the national coaches.
He was selected for the Confederations Cup in June. There, against the champions of Oceania, Europe and South America, he was massively underwhelming, showing all of his limitations and none of his strengths to a sufficient degree.
Keshi quietly dropped him, with the uncertainty over his club career ensuring that not too many read into the action. Mba is now settled in the French Second Division with CA Bastia, and is in reasonably good form with four goals in 11 competitive appearances. He has, however, not yet earned a recall.
When it comes to squad-building and playing style, there are broadly two kinds of manager. On one hand, there are some who come in with a conception of how they want their team to play, and seek out players suited to that style and tactic.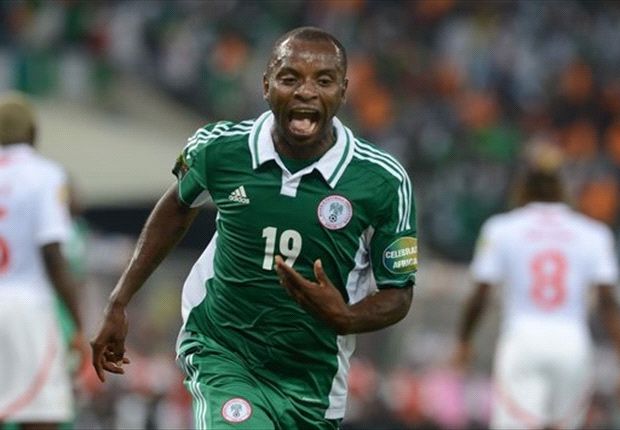 Mba | Knows the extent of Keshi's desire to perfect his approach
The eccentric Marcelo Bielsa, for example will not deviate from his un-
enganche y tres punta
: a playmaker behind three strikers, with relentless pressing and emphasis on retaining a spare man at the back.
Then there are those who survey the player pool and make a decision on what system will make the best use of the resources available. A manager like Carlo Ancelotti, for example, comes to mind.
The Big Boss, having seemed of the former persuasion, now appears to be leaning toward this latter.
With no one staking a valid claim to the most attacking role in Keshi's preferred 4-3-3, there is a possibility that he has decided to cut his losses and make use of what is available. Having attempted to fit a square peg in a round hole by fielding Nnamdi Oduamadi in midfield later in the qualifiers and in the London friendly against Italy, this may well be a tacit acknowledgement of the paucity of options available.
This writer had hoped that the call-up for Ramon Azeez would lead to Keshi inverting the midfield triangle and playing the hallowed axis of John Obi Mikel and Ogenyi Onazi slightly further forward. This now appears unlikely, considering the role the Almeria man played after coming on at the break in place of Uchebo.
The Big Boss broke up the axis and Onazi suffered through the rest of the game in the role Azeez should have taken up. On this evidence, Keshi does not consider Azeez the answer.
We should expect to see more of this 4-4-1-1 going forward as the team gets into shape for the Mundial in Brazil, and perhaps this enforced change is a blessing in disguise. The Super Eagles are up against Bosnia and Argentina in Group F, two teams that possess great quality in attack but are extremely poor defensively. Sitting just behind halfway in a compact shape to deny their forwards and midfield space, and breaking forward on the counter with searing pace is a strategy that could well see the Super Eagles stun their higher-ranked opponents.
If this happens, it would undoubtedly cement the growing legend of the Big Boss, who has excelled in turning adversity into strength all through, not just his stint in charge of the Nigerian side, but his professional coaching career.
Attention now turns to the next friendly on the 28th of May against Scotland. If Stephen Keshi can get his forwards to click, we can expect our Super Eagles to be one of the most devastating teams on the counter attack come the June showpiece in Samba country. ------------------ goal.com