The Big Boss seems to be looking to include a physical presence among his World Cup-bound forwards. Dike & Ameobi are in pole position, but should Anichebe be considered instead?
ANALYSIS
By Ed Dove
Evidence over the last 18 months seems to indicate that Stephen Keshi has realised the need to incorporate a target man into his Nigeria collective.
Under the Big Boss, the Super Eagles have developed a competitive and effective approach, often with three midfielders supporting a fluid three frontmen. The likes of Victor Moses, Emmanuel Emenike, Ahmed Musa, Victor Obinna and Ideye Brown have proved to be useful components in this mobile, speedy forward line, but Keshi appears to be aware that this may not be enough to succeed in Brazil.
Ahead of the 2013 Cup of Nations, he first indicated a desire to diversify his attacking options. Both
Shola
Ameobi
and
Bright Dike
were drafted into the team and the pair made their debuts against Venezuela in a friendly in November 2012.
During that match, and the subsequent friendly against Catalonia, both men made a fine impression and could realistically have been confident about their chances of featuring in the AFCON elect. Ameobi had made an assist on his debut (for Ogenyi Onazi) while Dike scored the equaliser in the 1-1 draw with the star-studded Catalonians.
It was to the surprise of some that Dike was ultimately overlooked, while Ameobi didn't take part in the triumphant tournament due to a clause in his Newcastle contract which denied him involvement.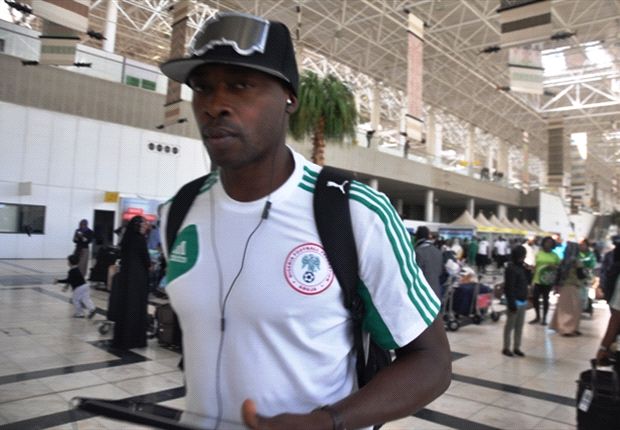 Ameobi | In Pole Position?
It took a while for either man to return to the fold following the Cup of Nations. Neither was selected for the Confederations Cup, and it wasn't until the Mandela Challenge match against South Africa in the middle of August that Ameobi was reintegrated into the side, with Dike following three months later.
Ameobi has featured in four of the last six games for the national side, while Dike has appeared in two of the last four, starting in friendlies against both Italy and Burkina Faso.
If we believe that Keshi is considering one of the pair as a potential 'Plan B', then their pattern of appearances for the Super Eagles becomes quite hard to rationalise.
In that friendly against Venezuela, one could explain Keshi's vision; as Dike departed, Ameobi appeared. In recent fixtures, however, both men have started together (against both Italy and Burkina Faso). This is a hard one to understand; the Big Boss is highly unlikely to start both men in the World Cup—but playing them together means that neither player is truly receiving the opportunity to impress as a sole target man amidst several more mobile talents.
At this point in time, it is hard to say who has the upper hand between the two. Ameobi has featured more often, but Dike has scored more (three in his last two games compared with Ameobi's two in two). Ameobi travelled with the squad to Addis Ababa for the first leg of the World Cup play-off against Ethiopia, while Dike stayed at home. The roles were reversed for the second leg in Calabar, as Ameobi remained in England while Dike watched on from the bench.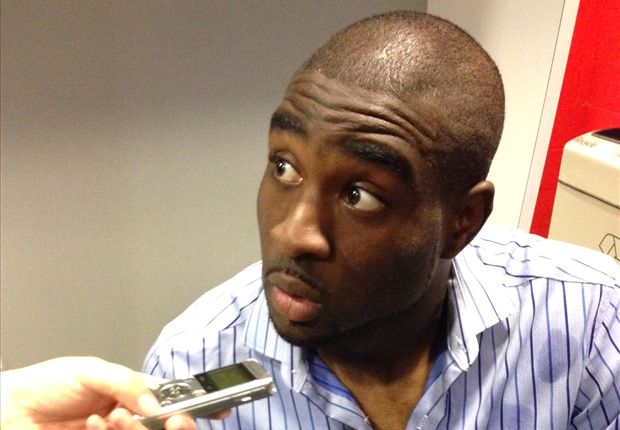 Dike | In danger of being squeezed out at Toronto?
I witnessed, first hand, the players' powers against Italy in a recent friendly at Craven Cottage. Both men displayed fine, astute movement to trouble the Italian defence, Ameobi operating as more of a static target man and Dike as a wider forward on the right-hand side.
If we assume that Victor Moses will play on the left of the forward three, we are left with a battle for authority for a number of fine striking options. In truth, it's hard to see Emmanuel Emenike and Ahmed Musa being left out for one of Dike or Ameobi. Victor Obinna should also be confident of travelling, following his fine finish in the Calabar clash with the Walias and his ability to adapt to the demands of the team.
Looking ahead over the coming months, I am inclined to suggest that Ameobi is the better placed of the two to secure a ticket to Brazil. With Papiss Cisse devoid of both confidence and quality at the moment, and the departure of Yohan Cabaye taking another key influence out of Alan Pardew's squad, Ameobi should enjoy a prominent stage at Newcastle over the coming months.
A key criticism still levelled against the forward, however, is his dismal record in front of goal. Ameobi has qualities, certainly, and can be a fine addition to a forward line as a support forward, however, he has scored nine goals in his last 95 Premier League appearances for Newcastle…he is almost a novelty act among the elite of British football.
Dike, on the other hand, has fallen down the pecking order at Toronto FC following the club's activity in the January window. Brazilian forward Gilberto arrived at the club from Internacional while the prolific Jermain Defoe will join the squad in February.
Despite been linked with a move to Celtic during the window, Dike stayed in Canada—it remains to be seen how many minutes he will manage between now and the World Cup.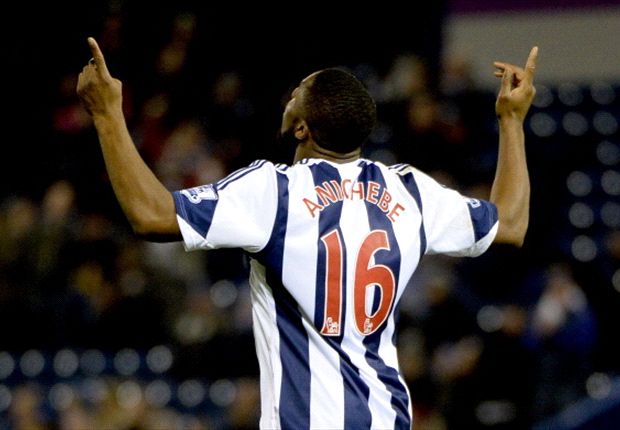 Big Vic | Back on the scoresheet
Could West Bromwich Albion forward
Victor Anichebe
be an option both more deadly and more convincing than the other two?
'Big Vic', at 25, is younger than both Dike (27) and Ameobi (32), he has, however amassed more Super Eagles caps than the other two put together.
His relationship with the national side has been troubled, but the player's desire to stay away from the squad are a result of a desperate injury record, and one he has been keen to overcome, rather than an indifference or an apathy towards the cause.
At 6'3, he is taller than Dike and the same height as Ameobi, but he is more mobile than either man and has also played on the right wing in the past, a versatility that might appeal to Keshi.
Finally, as his weekend goal against Liverpool proved, he is also a fine finisher when given the opportunity (i.e. not playing in support of a poacher). If he can overcome his injury woes, and it is a big 'if' considering that he has already missed a month of this season with a groin complaint, he could bring more to the table than either Ameobi or Dike. ---------------- goal.com