The West Brom striker used the symbol as a goal celebration on December 28, causing controversy for its alleged anti-Semitic connotations, but is given the minimum punishment
West Brom
striker
Nicolas Anelka
has been given a five-game ban by the Football Association for his '
quenelle
' goal celebration.
The former France international has also been fined £80,000 for the gesture and has been ordered to complete a compulsory education course.
Anelka has seven days to notify the FA should he wish to appeal against the decision.
In a statement published on its official website, the FA summarised that Anelka "made a gesture (known as the '
quenelle
') which was abusive and/or indecent and/or insulting and/or improper, contrary to FA Rule E3(1); and [...] that the misconduct was an "aggravated breach", as defined by FA Rule E3(2), in that it included a reference to ethnic origin and/or race and/or religion or belief".
ANELKA STATEMENT IN FULL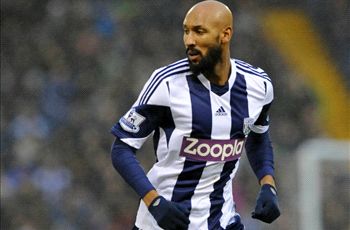 "Nicolas Anelka is pleased that the FA regulatory commission has found him not to be an anti-Semite and that he did not intend to express or promote anti-Semitism by his use of the quenelle gesture.

"He is now waiting to receive the commission's full reasons for their decision before considering whether or not to appeal."
"We did not find that Nicolas Anelka is an anti-Semite or that he intended to express or promote anti-Semitism by his use of the
quenelle
," the report stressed.
The incident occurred when the Baggies striker scored against West Ham in a 3-3 draw on December 28.
Anelka argued that the gesture, which is claimed to have anti-Semitic connotations in France, was made purely in support of a controversial comedian with whom he is friends.
A statement from the forward's camp declared him "pleased" to have been found not to be an anti-Semite but noted that he will wait for more details before deciding on an appeal.
Several Jewish community groups have welcomed the ban. "Nicolas Anelka has rightly been found guilty of introducing an ugly anti-Semitic gesture into British football," declared David Delew, chief executive of the Community Security Trust.
"We acknowledge Anelka's denial of anti-Semitic intent but his action was clear and the FA's zero-tolerance approach to racism meant there could be no other outcome.
"This verdict sends a strong message to Jewish players and supporters at all levels of the game that the FA will act against anti-Semitic acts if they are reported."
The chief executive of the Jewish Leadership Council, Simon Johnson, also remarked: "The conviction of Nicolas Anelka is a welcome outcome. It demonstrates that the FA's processes are robust enough to deal with the most pernicious of racism cases.
"All those of us dedicated to defeating racism and discrimination throughout sport can take great confidence that, when put to the test, football's anti-racism procedures stood up to the challenge." ----------- goal.com