The Argentine hit out at the club's economic vice-president Javier Faus on Friday in a pre-planned interview which has not gone down well at the Catalan club
SPECIAL REPORT
By Ben Hayward | Spanish Football Writer
Lionel Messi does not enjoy talking to the media. Rarely interviewed and seldom speaking at press conferences, Barcelona's Argentine forward is an hermetic figure who rarely shares his thoughts and feelings with the outside world. This time, however, he had something to say.
The 26-year-old, who is currently in his homeland as he recovers from a troublesome hamstring injury which has seen him miss the last month of action for Barca, got in touch with Catalan radio
RAC1
to discuss two topics on Friday. And he wasn't mincing his words.
First up was a passionate defence of his father following claims by a Madrid newspaper of criminal activity in the organisation of the benefit matches by the Leo Messi Foundation over the summer. "I deeply regret what is being said about my father and my friends because what we do in those matches is 100 per cent for charity," he said in a prepared statement. "I am very close to my father and as long as he wants to, he will be president of my companies and my Foundation."
Such a reaction was to be expected from the four-time Ballon d'Or winner, who enjoys a very strong relationship with his father. What came next, however, was a bombshell.
The Argentine hit out at Barca's economic vice-president, Javier Faus, following quotes made to the same station earlier this month by the director. "I don't see why we should [renew Messi's contract again]," Faus had told
RAC1
. "He has just signed a new contract until 2018 - and we don't have to offer an improved contract every six months."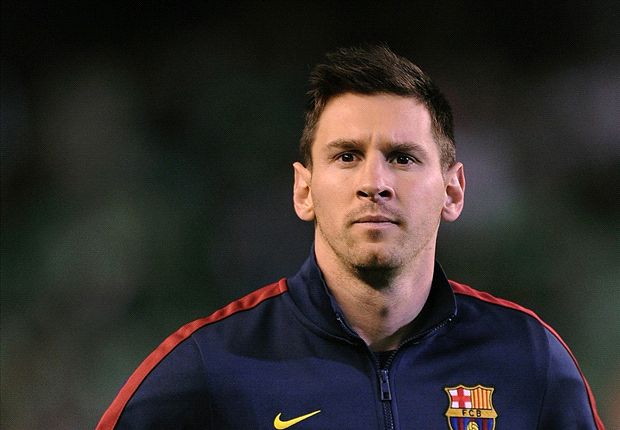 Unhappy | Messi has been forced to take time out through injury this year

Those words were not what the Argentine wanted to hear, especially as he has since seen Cristiano Ronaldo pen an even more lucrative deal at Real Madrid. "Faus is a person who knows nothing about football and he wants to run Barca like a business, but it isn't," Messi said on Friday. And clearly reading from a pre-prepared document as he spoke, the Argentine added: "Barca is the best club in the world and it should be run by the best directors in the world."
Word of the Argentine's annoyance had already reached Barca president Sandro Rosell and the Catalans' chief attempted to smooth over the situation on Thursday by claiming Messi merits even more than his current €16 million per year. "I haven't spoken to him about this, but the club offices are open," Rosell said as he announced an imminent new deal for Andres Iniesta. "But the world's best player deserves to be the highest-paid player," he added.
Those quotes, however, came too late to halt the Argentine's angry outburst at Faus and there is now concern at the Catalan club of a player becoming bigger than the team. Recent talk around Camp Nou has been of a spiteful media campaign from Madrid to destabilise Barcelona. But this was a Barca player responding to a
Blaugrana
director - and all of it heard on Catalan radio. While other stories may have emanated elsewhere, this Messi mess was homemade.
"What Messi has done has caused unnecessary problems," said former Barcelona presidential candidate Jordi Majo on Friday. "What Faus said had no bad intention - and many
socios
agree. Messi understands football, but he doesn't understand companies, economics or how Barca is run. So it would have been better for him to stay quiet." And he added: "Messi is an employee, the highest-earning employee at the club. But he is not bigger than Barca."
Faus knows nothing about football. Barcelona are the world's best club and they should have the best directors"



- Messi speaking on Friday
The worry, however, is that the Argentine does now have excessive power at the Catalan club. Known as a "little dictator" by one of his former colleagues, Leo has fallen out with several high-profile team-mates at Barca and barely spoke to Pep Guardiola in the latter's last six months at the club. The Catalan coach soon learned he had to pick the forward all of the time after Messi failed to show at training when rested for a 4-0 win over Sevilla in 2010-11, but was challenged by the Argentine after Barca lost to Madrid at Camp Nou in La Liga at the end of the 2011-12 season. "Why didn't you pick a team to win the game?" Messi asked Pep.
Guardiola is no longer around and in Martino, a fellow Argentine and Rosario native, Messi has a coach who is likely to be on his side almost all of the time. But the 26-year-old now feels he is being undermined and undervalued by the board, believing the club directors should show their appreciation for everything he has done at the Catalan club over the last few seasons. And even though he denied having asked for a new deal on Friday, members of his management team are thought to have sounded out the Catalan club concerning improved terms for their client.
Barca, however, believe a renewal is unnecessary at this stage as Leo has had time out through injury and because he has only recently penned an extension anyway. The
Blaugrana
board also feel Messi's words on Friday to be ungrateful after they stood by their player in his tax fraud case earlier this year and again amid the recent reports regarding his father.
Faus also said in his now infamous interview that while Rosell was at the club, there is "zero per cent chance" of Messi leaving. And at the moment, there is no split on the cards, but a power struggle is now underway - and the once harmonious co-existence between Barca and their prized player suddenly faces an uncertain future. ------------------ goal.com