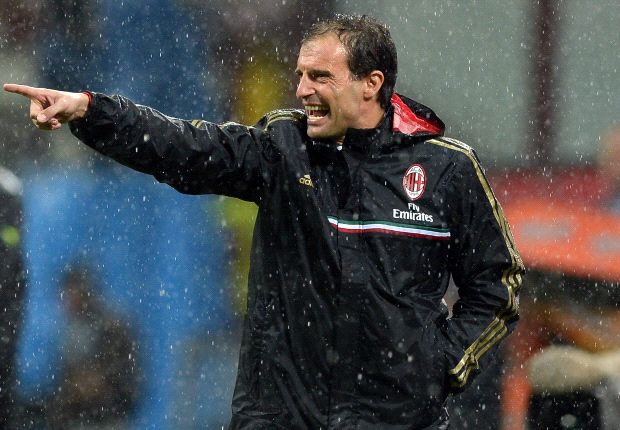 The Rossoneri
coach
has told to
his
side to defend well against Barcelona and is hopeful that his side can spring an upset at Camp Nou
AC Milan
coach
Massimiliano Allegri
has called upon his side to defend well against
Barcelona
to avoid becoming "
sacrificial
victims".
The
Rossoneri
have been in poor form so far this term but claimed a gutsy 1-1 draw against the Catalans in the
Champions League
at San Siro a fortnight ago.
They face a daunting trip to Camp Nou on Wednesday and Allegri wants to see his troops defend as they did on home soil.
He told reporters: "We'll have to defend as we did in the match at the San Siro and if we do that we won't play the sacrificial victims. Playing against Barcelona takes away a lot of nervous energy.
"We have to try and play a better game than we did in the first leg. It's the 8th time that we play them. The game doesn't agitate me just as the match against Chievo won't agitate me. After tomorrow's match, we'll start thinking about Chievo."
Allegri went on to admit that his side's Serie A form has been far from impressive but is hopeful that their decent run in Europe could see them spring an upset - with Mario Balotelli and Kaka on the scoresheet.
"I try to put players on the pitch in the positions that they play best in. We're on course to get through the group stages while we're behind in the league. We can get back.
"Fifteen days ago there were different thoughts surrounding the team. Let's hope that Balotelli and Kaka will score tomorrow and that the team plays well. Mario behaved correctly on Saturday.
"I won't talk about corporate club matters, we have a duty to train well and get back up the league. We've worked well in the last three days and we have to believe in what we're doing." -------------------- goal.com