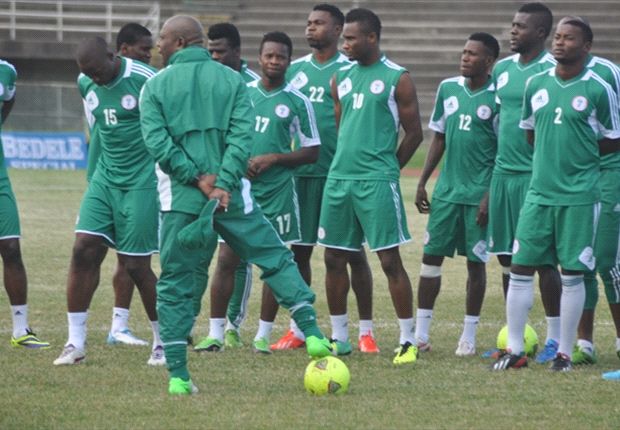 Keshi vows to take killer squad to Brazil
The national team helmsman has stated that a complete player both on and off the field would be in his team to the next year's World Cup finals
Nigeria coach, Stephen Keshi has promised to raise a formidable senior national team ahead of the Brazil 2014 World Cup.
Nigeria qualified for their fifth World Cup finals last Saturday in Calabar after an unconvincing 2-0 win over the Walya Antelopes completed a 4-1 aggregate victory but Keshi has hinted that the Eagles would not rest on their oars so as to make meaningful impact in Brazil.
He has assured that players would be given invitation on current form and attitude to previous call ups to the national team.
The Big Boss also advised his players to be level headed and humble within and outside the field of play if they want to continue to be in his good books at all times.
Quoting the Eagles' coach: "We just finished a game and I don't have anything on paper right now. Maybe in the next couple of days or weeks I will establish something better. But my most important competition now is the CHAN (African Nations Championships). It is around the corner in the month of January. Getting beyond the quarter final stage at the World Cup finals and other things will follow one after the other. It is turn by turn and game by game until we get to the last game."
Speaking on the hope for some players that have not been considered during the qualifiers to the World Cup, Keshi told journalists: " Starting from the month of March next year we should be having some friendly matches. Some of them that are here we might give them the opportunity to showcase themselves. Bringing in players is not about the football side of it. It is about the complete players that we need.''
"You can be an excellent player but you can still divide the house. I will not invite a player that might break the unity in the team when I know that it is the ingredient we need to have a solid national team. I don't care if such player scores 20 goals if he has to cause confusion in my team. I will take such player out. We need a team in and out of the field. We only have 23 players going to the World Cup, we cannot exceed that because we are not the only country going to the World Cup," concluded Keshi. ------------------------- goal.com
I really support you cos i personally think people like ideye, musa and echiejile have no business in that team cos they are too average in my assessment...