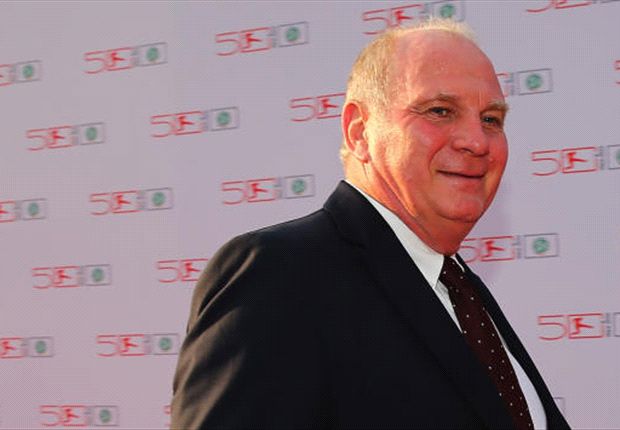 'I'll serve Bayern until I die' - Hoeness
The Roten president says he never thought about leaving the club, despite the upcoming court case over tax avoidance
Bayern Munich
president Uli Hoeness has pledged to continue working for the club until he can "no longer breathe".
The former West Germany international has endured a tumultuous war, with an upcoming court case concerning allegedly unpaid taxes, prompting rumours that he could step down from his role.
However, Hoeness intends to work for the club for the rest of his life, but pledged to ask for a vote of confidence from Bayern members.
"I will serve this club - until I can no longer breathe!" he said at the club's annual general meeting.
"But only if I receive a clear mandate from you. I never considered stepping down, because the club never proposed it to me.
"The only important thing to me is the club, not the Handelsblatt [financial newspaper].
"I submit myself to the will of the membership by asking for a vote of confidence. I wish to give the membership the right to decide whether I'm still the right president for this club."
Club CEO Karl-Heinz Rummenigge voiced his unwavering support for the 1974 World cup winner, who was cheered and applauded by club members.
"I am his friend and true friendship shows itself when there are problems," he said. "When I see you, dear members, paying tribute to Uli today, I believe that all of Bayern is his friend."
For his part, Hoeness admitted to being moved by the way he was greeted by club members and Hoeness' words.
"I'm overwhelmed. Not just for your speech, Karl-Heinz but by the reaction of our members," he continued.
"I would like to state a few facts. I have not failed to declare hundreds of millions of euros in unpaid tax. I've paid millions of euros in tax for many years.
"I've made donations totalling more than €5 million in the last five years, by not accepting fees for speeches. And I also donated the proceeds from the benefit match for my 60th birthday.
"But I'm not attempting to absolve myself of blame, I admit my mistakes." --------------- goal.com