Saturday's resounding 5-0 defeat of Honduras has put a spring in Brazil's step, but Chile will offer a whole new challenge for Scolari's mean in Toronto
A feel-good factor has swept across the Brazil camp following Saturday's resounding 5-0 victory over Honduras at Sun Life Stadium in Miami.
The discourse amongst the group has remained the same. Careful not to get ahead of themselves, the players are continuing to talk about the importance of the group as a whole, reiterating that there is a still long way to go before the World Cup next year.
But the smiles have grown wider. The endorsements louder. The quotes - in the case of coach Luiz Felipe Scolari - grander. "There is no pressure on Brazil," he told a press conference on Saturday evening. "Brazil will be world champions."
There were no echoes of that statement last night as the players stopped for some brief words with the press before making their way back to the team bus, but all wore distinct look of satisfaction that rippled through the press core.
David Luiz was in typically fine form. Stopping to inform GBGT that the Wiliian's singing during the initiation process at the Marriott Marquis hotel in downtown Miami was "really bad, man. It was so, so bad."
Brazil achieved victory in front of 71,124 fans – a new record for football in the state of Florida. And with five different goalscorers.
International friendlies are about more than results and Scolari instantly claimed the scoreline was not a fair reflection on the balance of play. It was the nature of this result that has pleased him most. There was a fluidity and verve to Brazil's attacking play – one displayed by both forward lines after a flurry of second-half substitutions.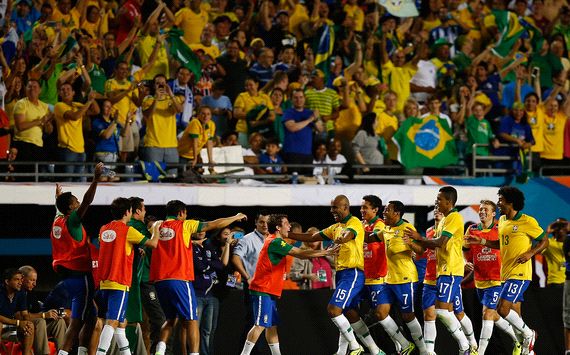 Party like it's 2002
| Luiz Felipe Scolari is says his side will once again be world champions
Paulinho got forward to great effect all evening, charging through to square to for Bernard to grab the opener. Maicon excelled from right-back as he has done all week in training. Brazil's fifth was the icing on the cake. A goal that delighted the Miami crowd, Ramires and then Robinho backheeled before Hulk provided a poised and controlled finish, opting for finesse rather than power as he curled his shot nearly inside the post.
The players enjoyed a well-deserved day off on Sunday and will travel to Toronto on Monday, where they will face perhaps their biggest test since cruising to Confederations Cup glory this past summer.
Jorge Sampaoli's Chile arrive in Canada on the back of a prestigious 2-0 victory over England at Wembley Stadium. And with a momentum of their own, having lost just one of 13 matches since Sampaoli's appointment.
And while a number of Brazil's recent opponents have adapted a more reactive approach, sitting deep and concentrating their efforts largely on nullifying a Selecao forward line that has now grabbed 18 goals in their last five outings, Chile will look to put Scolari's side on the back foot right from kick off.
Sampaoli's Marcelo Bielsa-inspired approach seeks to squeeze the opposition high up the pitch and stretch the play with onrushing full-backs in an attempt to outnumber their opposition in every area of the field. Only Argentina scored more than La Roja during Conmebol's World Cup qualification marathon.
Brazil will have chances, however. While Sampaoli has restored the sort of performances we saw from Chile in the run-up to World Cup 2010, their high-risk, intense approach inherently leaves chances for the opposition.
Chile sealed qualification via a 2-1 home victory over Ecuador in the final round of qualification, a result of that directly followed a 3-3 draw away to Colombia that was perhaps this Chile team in microcosm.
During the first half they strangled the life out of Jose Perkerman's side in Barranquilla, leaving the Colmobians gasping for breath as a frantic mass of red shirts smothered them into submission, racing into a three-goal lead inside the first 30 minutes.
With qualification and a famous victory clearly in their sights, however, Chile collapsed in the second period, conceding three quick goals as Colombia found a second wind.
High on confidence, Chile arrive in Toronto with a momentum akin to that of Brazil. They will present a different type of threat to the Selecao and Scolari will be intrigued to see how his charges fare against a more proactive opposition. ------------------ goal.com