Goal Nigeria take a look at the immediate and the far-reaching consequences of Bright Dike's Achilles tendon injury and examine what this means for Stephen Keshi.
ANALYSIS
By Solace Chukwu
Nigerians the world over woke up on Tuesday to the sad news that hulking striker
Bright Dike
had torn his Achilles tendon in a training session with club side Toronto FC. While the exact length of time he will be out is yet to be definitively determined, the prognosis is grim: four months at best till he can play football again.
He will almost certainly miss the World Cup.
His absence will be a blow, both to the player himself; he referred to it as the "worst day of my life" on Twitter, Monday, and to the national team, especially considering that he had done his chances of a debut World Cup appearance no harm at all with his recent performances.
His three appearances for the Super Eagles, even though they have all been in friendlies, have yielded two goals.
Already 27, there is more than a good chance that the Mundial in Russia in 2018 may come too late for him. While strikers do tend to peak between their late twenties and early thirties, he will surely find the competition for places fiercer then than now. More worryingly, having suffered this same injury in 2011, one hopes this is not the onset of injury problems going forward, as the probability of an Achilles tendon rupture is greatly increased with advancing age.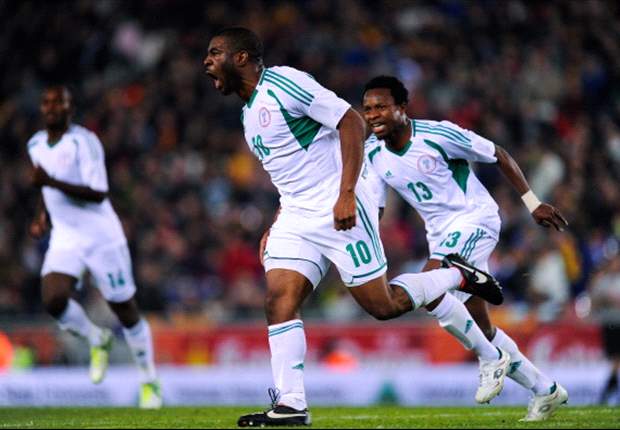 Dike | Remembering fonder times
Factor-in the possibility of a different manager being at the helm (I know, I know. I don't like it either, but let's be practical) who may not take to Dike quite so well, and it is clear this was just his time to be in the spotlight. His all-action, energetic, powerful style and burly build are perfect for Stephen Keshi's 4-3-3, and before this news hit, he had done enough to earn another call-up for a friendly against Mexico in Atlanta next month.
While it remains to be seen if Keshi will call-up a replacement for the Mexico friendly, his injury will surely have an impact on the squad for the main event in June. The call-ups for Michael Uchebo and Imoh Ezekiel take on an even greater significance now; depending on their performances, one or both could earn himself a spot on the plane to Brazil. Imoh seems set to trial on the right side of the attack, while Uchebo's rangy, Kanu-esque grace will see him audition for a centre-forward role.
Stylistically, Dike is the closest thing to first-choice striker Emmanuel Emenike, hence the fitness of the latter assumes even greater importance. The possibility of injury to the Fenerbahce frontman is one which the Super Eagles coaching crew will absolutely dread; one has only to revisit the performances of Ikechukwu Uche at the Africa Cup of Nations final, and Obafemi Martins in a home qualifier against Kenya to understand how a different kind of striker would affect both the system and rhythm of the team.
So, the absence of the Toronto powerhouse has not only weakened the team numerically, but affected it tactically as well. This will surely force a bit of a re-think from the Big Boss; he can no longer call-on a ready-made replacement for his first choice, and must now tweak the system to compensate for the loss. Even harder to replace will be Dike's goalscoring touch: a goal-to-game ratio of 0.66 at international level is auspicious, even if unsustainable, perhaps, in the long term.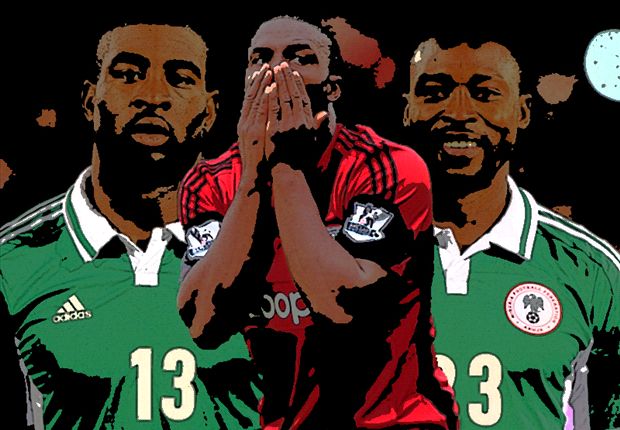 Dike | One of Keshi's Plan B options falls by the wayside
The player who most stands to gain from this latest development could be Dynamo Kyiv forward Brown Ideye. Having appeared, over 2013, to be a favourite of Stephen Keshi, he had finally been made to pay for his uninspiring scoring form for the national team with his place in the squad for the warm-up in Atlanta. With one less competitor, Ideye will certainly sleep much easier.
If Keshi is tempted to turn to the proverbial 'devil you know' Ideye will surely be back in the running for a chance to reprise his inside-forward role on the right of the three-man attack. He is also capable of playing in a centre-forward role, but his recently-misplaced scoring touch and displays at the Confederations Cup ought to put paid to that as a viable alternative.
Another knock-on is that it makes the presence of Newcastle forward Shola Ameobi no longer a probability, but imperative. Having seemed to be in a three-way, winner takes all showdown with the now crocked Dike and long-term outcast Victor Anichebe, his path is clearer now, especially considering that Anichebe's willingness to return remains unascertained.
Indeed, it now seems that it will be newly called-up Michael Uchebo who will be challenger to the beanpole from Tyneside. Shola is yet to find the back of the net for Newcastle this season, but he did mark his return to the international fold with a brilliantly executed flicked finish against Italy. Uchebo must bring his A-game to get a look in ahead of Ameobi.
While Dike's present indisposition is unfortunate, it does open up doorways for others who have found themselves on the fringe. However, it places greater onus on the tactical ability of coach Stephen Keshi's crew. Their challenge is to compensate for the absence of the Toronto FC striker by devising a means for the other kinds of forward available to them; lemons with which to make lemonade, as it were. Their willingness and aptitude for the challenge might well come to define the Super Eagles' World Cup chances.
Our sympathy and best wishes go to Bright Dike. Get well soon. ------------------ goal.com