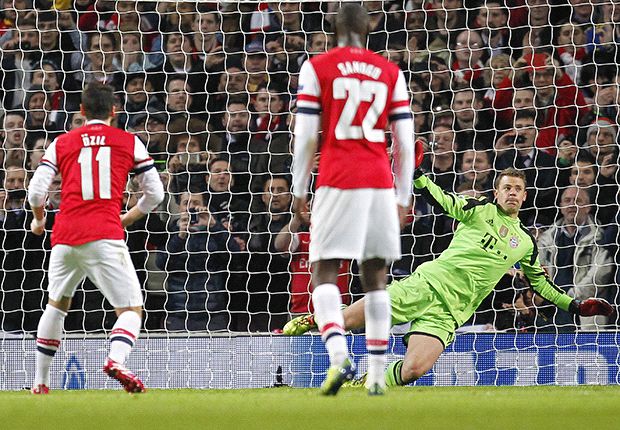 The Frenchman was unhappy with how the Bayern attacker reacted to being fouled in the Arsenal area as he won a penalty and helped to inflict a 2-0 defeat on the Gunners
Arsene Wenger
has criticised Bayern Munich star
Arjen Robben
for making the most of
Wojciech Szczesny
's foul in the first half which resulted in
Arsenal
being reduced to 10 men.
MAKING A MES OF IT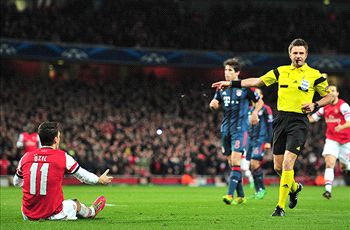 OZIL RATING VS BAYERN


Won the early penalty after ducking inside Boateng but let his side down with a terrible spot-kick straight at Neuer. Some sloppy passing and looked very heavy legged when he tried to track back.
FROM OUR LIVE! COMMENTARY

SAVED! NEUER SAVES OZIL'S PENALTY! It's a weak effort from the Arsenal midfielder, down the middle and Neuer merely beats it away! The Germany international keeper does well to read his compatriot's thoughts, but Arsenal needed to capitalise on that golden opportunity there!
Mesut Ozil had a penalty given then saved in the Champions League last-16 first leg before referee Nicola Rizzoli returned the favour to
die Roten
when the Gunners goalkeeper clattered into the Bavarians' Dutch attacker, earning him a red card.
David Alaba missed the subsequent spot kick but, after Bayern went on to dominate the game and scored through Toni Kroos and Thomas Muller, Wenger hit out at what he considered to be theatrics from Robben.
"I think the second-half was boring for neutral people," Wenger told reporters. "It was one-way traffic. The referee made a decision that killed the game.
"In Italy, they send you off for these kind of fouls. I think our goalkeeper genuinely went for the ball. He touched Robben who made more of it - I told him [Robben] that. He has enough experience to know to make more of it.
"I just feel frustrated. It was a great football game until half-time and there was no game at all after half-time."
Wenger was also critical of Ozil's penalty effort an performance, suggesting Manuel Neuer's save allowed the Bavarians to get their bearings on the game due to the drop in confidence.
"Ozil missed a penalty. I prefer when people run properly at the ball," Wenger added. "It's his style of play, what can I say? We needed to score that penalty tonight.
"He was affected by it. I think he wanted to do so well tonight, it affected him. You could see he will still shaking his head five to 10 minutes later. It had a huge impact on his performance.
"You're always concerned about the confidence of your players because that's your petrol for the team. It gives them the desire to go and play." ---------------- goal.com