The veteran German has a mixed coaching record and must attempt to work his old magic to save Fulham from the drop this season
PROFILE
By Enis Koylu
There are two sides to Felix Magath: One is the legend of German football, a highly decorated player who made Hamburg one of the most feared clubs in Europe with some beautiful midfield play. The man capable of what seemed impossible: leading Wolfsburg to the Bundesliga title.
Then there's the other side. The autocratic leader, whose unorthodox methods border on the ridiculous.
After his playing career was cut short by a horrible knee injury at the age of 32, Magath's career on the bench has been mixed at best. Results are never indifferent: he is either a resounding success or an unmitigated failure.
His trophies speak for themselves. He has won three Bundesliga titles, as many as recently departed Bayern Munich coach Jupp Heynckes, one with a club who had been battling relegation just a couple of years previously, and one more DFB-Pokal.
But then there's the other stints. His first coaching post was in charge of Hamburg, but he failed to rekindle the magic that made his spell at HSV as a player so special. He performed well at Nurnberg, but almost took Werder Bremen down.
He saved Eintracht Frankfurt from relegation in 1999-2000, but was sacked the following season as they were dragged back into the dogfight, before he got the Stuttgart job, leading them to silverware in the form of the Intertoto Cup, which won him the Bayern Munich post.
At Bayern, he was understandably successful, winning two Bundesligas and two Pokals. His during his third and final season, though, the Bavarians were languishing out of contention for the Champions League places, which saw him promptly sacked.
Wolfsburg soon enlisted his services and he led them to a dream two-year period, adding another national title to his medal collection.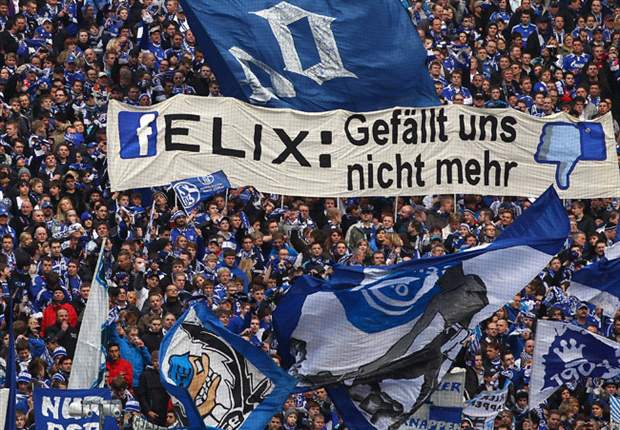 Dislike | Schalke fans show their displeasure with Magath's regime
After leaving Wolfsburg, he took over at Schalke, but his spell at the Veltins-Arena was one to forget. Acting as both coach and sporting director, he bought an extraordinary number of players, some of whom are still on the books today without any hope of playing, or finding a club willing to take them.
His spending spree hardly paid dividends on the pitch either. He left S04 languishing at the wrong end of the table in March 2011. Under the tutelage of newly instated coach Ralf Rangnick, they reached the Champions League semi-finals (beating holders Inter on the way) and winning the DFB-Pokal.
MAGATH'S COACHING CAREER

Club

Years
Trophies
Departure


Hamburg

95-97
None

Sacked

Nurnberg

98-99
None

Dispute

Frankfurt

99-01
None

Sacked

Stuttgart

01-04
One

Left

Bayern

04-07
Five

Sacked

Wolfsburg
07-09
One
Left
Schalke
09-11
None
Sacked
Wolfsburg
11-12
None
Sacked
Less than 24 hours after being dismissed by the Royal Blues, he re-signed with Wolfsburg. Volkwagen invested heavily in the club, bringing an influx of new signings, but he wasn't able to achieve anything better than an eighth-placed finish in 2011-12.
After just a handful of games, with Vfl battling relegation, he was dismissed the following season.
But while his track record certainly indicates that he has some talent as a coach, more disturbing is his reputation as a harsh disciplinarian, which has followed him around over the years.
In 2001, Bachirou Salou, one of his charges at Frankfurt, described him as "the last dictator in Europe" and he is commonly nicknamed Qualix, a pun involving the German word for "torture".
It may be a little over the top, but there is grounding in it: stories of making players run up hills with the false promise of cake and coffee, making players with broken arms do one-handed press-ups are rife with Felix.
And so he will continue his career on the bench with Premier League relegation candidates Fulham, who are in need of a radical whipping into shape. The Cottagers could benefit from his authoritarian fitness regime, but can he save them from the drop, as he did with other teams previously in his career?
Perhaps former Norway striker Jan Age Fjortoft, who played under Magath at Frankfurt has the best answer. "I don't know whether Felix Magath would have saved the Titanic. But the survivors would have been in top shape." --------------- goal.com