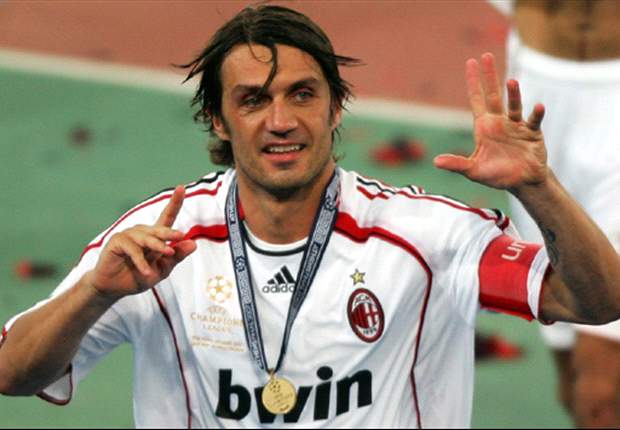 The truth behind Maldini's Milan exile and why he won't return until Galliani leaves
The left-back won a host of trophies as a Rossoneri player over 25 years, but he is unlikely to rekindle his love affair at San Siro with the current CEO now staying on at the club
SPECIAL REPORT
By Kris Voakes | International Football Correspondent
May 24, 2009 was a searing hot day in Milan. The mercury had risen to around 36 degrees celcius by kick-off time on the day Paolo Maldini played at San Siro for the last time, with vendors outside doing a roaring trade in iced water. It seemed the picture-perfect scenario for the final farewell to a footballing legend.
But 25 years of service at AC Milan apparently counted for nothing. Five Champions League wins meant squat. Seven
Scudetti
were now forgotten. Nine other trophies had also been cast aside in the minds of fans as banners were held aloft after the game to greet their captain on his solo lap of honour not with compliments, but instead with castigation.
"Grazie capitano. On the pitch you were an undying champion but you had no respect for those who made you rich," said one. "For your 25 years of glorious service you have the thanks of those you called mercenaries and misers," read another.
His retirement press conference was postponed by a week, and it was Fiorentina's supporters rather than Milan's who gave the number three a fond farewell.
The fans' ire had been raised largely by Maldini's refusal to pander to the influential Curva Sud. Their decision to vent their anger at the Milan squad upon their return to Malpensa airport following the 2005 Champions League final defeat to Liverpool in Istanbul was met with the captain's disgust. It was then that he allegedly muttered the incriminating "mercenaries and misers" comment that would be used against him upon his retirement, while there had been other occasions when his words about the hardcore fans had been considered less than complimentary.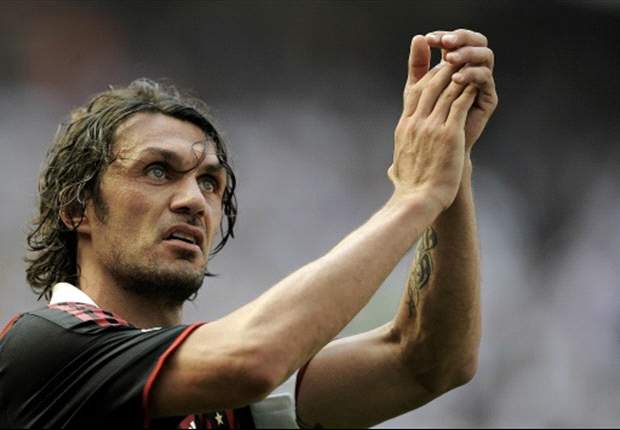 The imperfect goodbye |
Maldini's farewell was marred by the Curva Sud's insults
"The Ultras claimed on TV at the time that it was not a direct protest against Maldini, but obviously it was," one Curva Sud member told
Goal
. "They demand respect from the players for their dedication and support, and they believed that Paolo had not given them that. It is difficult to say they were right, but they weren't entirely without justification. They love to have their favourites, but Maldini is just not one of them as a result of what he said about them." That sunny May afternoon remains the last time Maldini attended San Siro in an official capacity, but it is not only his sketchy relationship with the fans which has provided a stumbling block to a return.
When Adriano Galliani announced his intention to resign from the position of CEO and vice-president last week, it was extremely predictable that the next news to come out of Milanello would involve Maldini. True to form,
Sky Italia
was soon reporting that Barbara Berlusconi's first act from her pending position of increased responsibility would be to bring in the club legend as a technical director.
The subsequent decision by father Silvio to play peace-maker and ensure Galliani's continued presence at the club, though, has resulted in Maldini remaining on the outside looking in for the time being.
When the famed full-back had first announced his intention to retire from playing, it was considered a natural next step for him to be offered a new role at the club in a bid to extend his affinity with the shirt he had first worn as a junior at the age of 10. Instead Milan have kept their distance, thanks to a stand-off which has developed between Maldini and Galliani.
'MALDINI EXILE SET TO CONTINUE'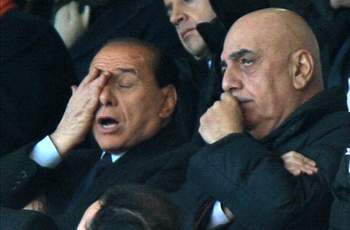 "Since his retirement, Maldini hasn't found the space at Milan that many of his former team-mates did, but we should specify that the club has a very clear and basic structure. Galliani and Ariedo Braida have been the only people with executive duties, while icons like Daniele Massaro, Franco Baresi, Filippo Galli and Pippo Inzaghi were always left outside of the decision-making process. Massaro works at the marketing department, Baresi is an ambassador, Galli is head of the youth sector and Inzaghi is coach of the primavera team.
Following his recent meeting with Silvio Berlusconi, Galliani will keep his duties as CEO for sport, while Braida will leave the club next summer, at which time Milan will nominate a new sporting director. But in the current situation, 'diplomatically' imposed by Berlusconi, there is still no room for Maldini.
He is the first 'victim' of the agreement between Berlusconi and Galliani, because once more he will pay for his lack of diplomacy on the grandest scale. His difficult relationship with the die-hard tifosi is notorious, and at his farewell press conference he was very critical about Galliani, saying: "I've never seen a football club that is ruled by just one person". This was interpreted as a personal attack on Galliani, and had a huge say in his ongoing exile from Milan."
Alberto Costa | Corriere della Sera

Leonardo wanted Maldini back to act as a director of sport, passing on his experience at training sessions, but Galliani told the pair that no such role was necessary in modern football. Massimiliano Allegri later suggested Maldini could join his staff to act as an advisor and a conduit between the coach and players, but the former full-back was again made to feel unwelcome.
"I can destroy this myth that I am 'one of the family' at Milan," blasted Maldini to
La Repubblica
in 2012 when asked about Galliani's approach. "They don't particularly want me there. I feel bitter, not just for me but also for everything we created together that has fallen apart. It's the same sensation many of my ex-teammates have."
Corriere della Sera
's Alberto Costa tells
Goal
's Gaia Brunelli that it is the former skipper's outspokenness that sparked the stand-off in the first place.
"He is paying for his lack of diplomacy on the grandest scale," says Costa. "His difficult relationship with the die-hard
tifosi
is notorious, and at his farewell press conference he was very critical about Galliani, saying: 'I've never seen a football club who is ruled by just one person'.
"This was interpreted as a personal attack on Galliani, and had a huge say in his ongoing exile from Milan."
While Maldini has spoken in glowing terms about his experiences as a Milan player, his refusal to cite Galliani as a key factor has been telling, as was his claim last year that nobody currently in power can take any credit for the club's successes of the past.
"I was fortunate to be with Milan for 25 years. Silvio Berlusconi arrived and taught us to think big," said Maldini. "Arrigo Sacchi gave us the mentality that we'd become the symbol for a style of football. It was magical.
"But slowly the magic was lost and Milan transformed into an absolutely normal club. There is nobody in the current Milan set-up who wrote history, other than those in marginal roles. At Bayern Munich and Real Madrid, the magic is still being continued by Beckenbauer, Hoeness, Rummenigge, Butragueno, Gallego and Valdano. Milan had the magic for 25 years, but then lost it."
Only a change of leadership at the club is likely to bring about a return for Maldini, but Galliani's stay of execution means that Barbara Berlusconi will not have the autonomy she'd hoped for when considering a role for Maldini.
But if Barbara does want the 45-year-old back at the club, it can't be in a token position, as Maldini himself has previously warned.
"I have never considered being a coach, and I don't want to be a director because I don't like politics. If I were to remain in football, it would be in bringing my knowledge to the table. I am not interested in a role just for the prestige of it."
For now there is no role at all for him. He has been linked in the past with Chelsea and Paris Saint-Germain. There was talk, too, that he could assist Cesare Prandelli with the Italian national side. Instead it is Milan that remains his only focus, but the call has still not arrived.
Football continues to wait for one of its greats to return to the game. ------------ goal.com