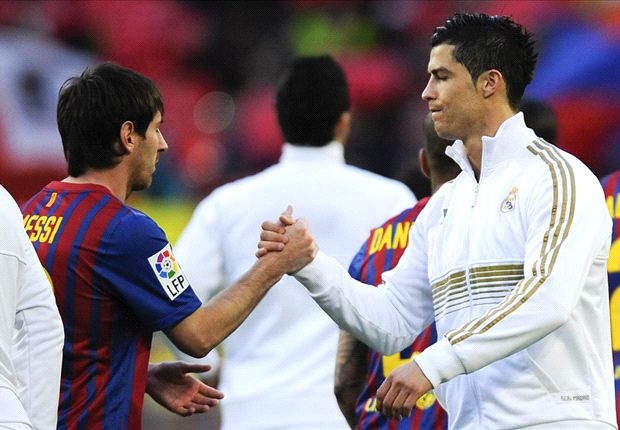 Ronaldo and Messi lead World XI shortlist
The Real Madrid and Barcelona stars have been joined by a number of high-profile attacking names, including fellow Liga forwards Neymar and Diego Costa
Cristiano Ronaldo and Lionel Messi are the lead nominees on Fifa's World XI shortlist, with 13 other forward players, including Paris Saint-Germain striker Zlatan Ibrahimovic also nominated.
Ronaldo and Messi are two of four players named hailing from La Liga, with Diego Costa and Neymar plying their trade in Spain's top flight with Atletico Madrid and Barcelona respectively.
Luis Suarez, Robin van Persie, Sergio Aguero and Wayne Rooney represent the Premier League, while Mario Mandzukic and Robert Lewandowski are the two Bundesliga stars making the 15-man shortlist.
Paris Saint-Germain duo Zlatan Ibrahimovic and Edinson Cavani defend Ligue 1's honour alongside Monaco striker Radamel Falcao, while Mario Balotelli is Serie A's sole representative.
Cote d'Ivoire international Didier Drogba, meanwhile, is the only candidate who does not play in one of Europe's five top leagues.
The Fifpro World XI will be announced at Fifa's
Ballon d'Or
ceremony in Zurich on January 13.
Fifpro World XI Shortlist of Attackers:
Sergio Aguero (Argentina, Manchester City); Mario Balotelli (Italy, Manchester City/AC Milan); Edinson Cavani (Uruguay, Napoli/Paris Saint-Germain); Diego Costa (Spain, Atletico Madrid); Cristiano Ronaldo (Portugal, Real Madrid); Didier Drogba (Cote d'Ivoire, Shanghai Shenhua/Galatasaray); Radamel Falcao (Colombia, Atletico Madrid/Monaco); Zlatan Ibrahimovic (Sweden, Paris Saint-Germain); Robert Lewandowski (Poland, Borussia Dortmund); Mario Mandzukic (Croatia, Bayern Munich); Lionel Messi (Argentina, Barcelona); Neymar (Brazil, Santos/Barcelona); Wayne Rooney (England, Manchester United); Luis Suárez (Uruguay, Liverpool); Robin van Persie (Netherlands, Manchester United). ------------- goal.com