The coach was forced to settle for his second-choice transfer target after arriving at Bayern, but still pulled off one of the most controversial deals in history
SPECIAL REPORT
By Daniel Buse
When
Bild
broke the news of Mario Gotze's impending summer transfer to Bayern Munich one evening in late April, fans, experts and Borussia Dortmund themselves were wondering whether it was the first day of the month.
In the majority of transfers, all three parties are made aware of any agreements in the deal. But that was not the case when Gotze, once dubbed "the talent of the century" by Matthias Sammer, made the switch across Germany's
Klassiker
divide.
The seeds of his controversial move were sown in March 2012 when he signed a contract binding him to Jurgen Klopp's side until 2016. "Everyone knows how comfortable I feel here," he said at the time. "The club are far from finished with their recent resurgence. And I want to be a part of it."
The words seemed somewhat less convincing when details emerged of a €37 million release clause in his contract. Amid the hustle and bustle of Dortmund's subsequent double win and Gotze's ongoing injury problems, the story was swept under the carpet. But Bayern had taken note.
Fast forward to December that year and Bayern were well on their way to securing domestic dominance. But it seemed the then 20-year-old had no intention of leaving. "We are not thinking of a move in 2013," his agent Volker Struth said.
At the time Bayern were working on securing new coach Pep Guardiola, whose arrival at the club was to be confirmed in January. He had a one-name wishlist, Neymar of Santos, but the Bavarians' senior management disagreed due to their past problems with "young Brazilians". So they settled on their next-best choice - Gotze.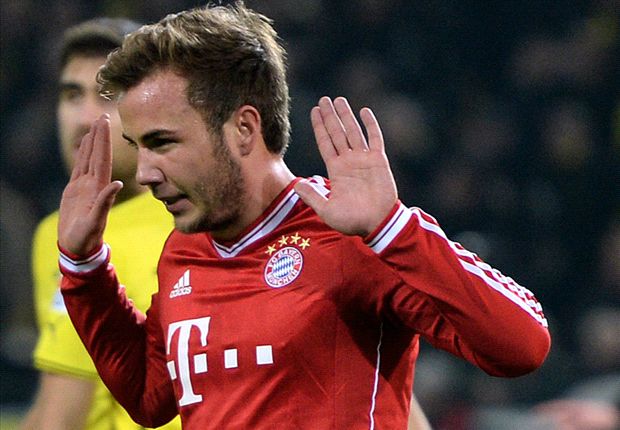 "Thank me later" | Gotze refuses to celebrate after scoring against BVB
In the spring of 2013, the transfer rapidly began to gain momentum. Shortly after the 3-2 win over Malaga, Gotze's entourage informed Dortmund that he had agreed terms with Bayern.
A LONG TIME IN FOOTBALL
Timeline of Gotze's move

Apr 11

Agent informs BVB of move

Apr 20

Hoeness case breaks

Apr 22

Bild announce the transfer

Apr 23

Clubs confirm transfer

Apr 24

Gotze stars in Madrid win
"[Sporting director] Michael Zorc walked around the training ground as if someone had died," Jurgen Klopp reflected. Dortmund's approval was not needed and they were powerless to prevent their most prized asset from leaving the club.
The public heard of the transfer some time later, but another intriguing story in the Bundesliga broke at the same time. On April 20, Munich-based magazine
Focus
revealed that
Roten
president Uli Hoeness was being investigated for tax evasion. Intense media scrutiny followed, but the former West Germany star refused to resign his position.
Two days later,
Bild
's story about Gotze's move had broken and BVB had no choice but to confirm it the next morning, on the eve of their Champions League semi-final with Real Madrid, providing a convenient smokescreen for the Hoeness story.
"It could have happened at a worse time. Like four hours before the game," Klopp joked at his pre-match press conference. "But on a scale of one to 10, this is a nine." He also issued a plea for Dortmund fans to get behind the whole team, even Gotze, in the match.
It clearly worked. Dortmund won 4-1, with Robert Lewandowski scoring all of their goals.
The return leg at the Bernabeu turned out to be Gotze's last game for the club and anger from the stands intensified. As BVB saw it, their academy graduate and best player was leaving for their most hated rivals.
So what had turned his head? There was a sporting factor that contributed to his decision. "The reason Gotze is leaving? He's Guardiola's target," said Klopp at the first press conference after the deal was announced.
As well as being coached by a man who had won everything and carries a mystique and allure few others can match, there was a financial factor. Gotze and his agent picked up €7m in fees between them upon agreeing the deal worth €10m a year - more than double his salary at BVB.
His total cost could exceed €114m, but the Bavarians had poached Sammer's "talent of the century" and also significantly weakened their rivals in the process. They believe it will prove a price worth paying.
After Klopp's side lost to Bayern in the Champions League final, they returned to Germany, with Gotze being greeted by a chorus of boos. Their anger was compounded in November when Gotze rose from the bench to score the first goal in a 3-0 win for Guardiola's side at Signal Iduna Park.
What had seemed impossible a year ago to Dortmund fans had become a grim reality. --------- goal.com