Goal looks back over the year that was for the Liverpool forward, reminiscing about his unforgettable Afcon contribution
ANALYSIS
By Ed Dove
Over the last 12 months, over 2013,
Victor Moses
has grown before our eyes. He has been transformed from exciting bit-part livewire to established, influential international—an African Champion no less.
While other players may have stolen the show at the Cup of Nations, Sunday Mba with his pertinent contributions, Emmanuel Emenike as the tournament top scorer, or John Obi Mikel with his majestic marshalling of the Super Eagles' midfield, few of us who watched that tournament will ever forget what Victor Moses brought to the party.
In some ways, the AFCON was a microcosm for Moses's year and his developing narrative.
When the tournament began, if you remember, Moses didn't feature in the Super Eagles' first game against Burkina Faso; he started against Zambia, but was replaced as Nigeria began to lose the initiative. It was an inauspicious start and one that didn't even begin to allude to the promise that would follow.
For the first 78 minutes in the final group match, against Ethiopia, it didn't look like Nigeria would be escaping Group C, let alone claiming their third continental championship.
Yet Moses, clearly, wasn't keen to end his first Cup of Nations sojourn after a game and a half. The forward demonstrated a great deal during that final 12 minutes against Ethiopia.
Immediately, viscerally, visually, he demonstrated the terror that his pace could instil in opposition defences. He also gave us a vivid window into how his direct running and bold dribbling could affect and undermine our African rivals for—hopefully—years to come.
Subsequently, we all witnessed Moses's courage, as well as his unrelenting desire to win contests and influence proceedings in the tightest and trickiest of contexts.
These are qualities all the more remarkable when one considers that Moses was only 22 and with limited international experience to his name, when he made his decisive contributions against the
Walias
.
You don't need me to describe, once again, those exhilarating moments when Moses's speed and agility forced the Ethiopian defenders, the whites of their eyes as exposed as those of the Turks before the Battle of Manzikert, to bring him down in anguish.
Nor do you need me to remind you of the composure and confidence of the then-Chelsea man's two penalty conversions. Direct, composed and without a ripple of concern, this was a young star primed to carry his underperforming and underwhelming team-mates beyond the threshold and into the affections of a nation.
While that brace against the East Africans was Moses's most quantifiable contribution to the assault on the African title, I was most impressed, as anyone who regularly reads my work would know, by his peerless performance against Mali in the semi-final. This was a performance that presented depth and volume, rather than merely the explosive flashes that many young forwards are prone to deliver, from time to time.
Writing about the young man's performance, in my official Goal Nigeria match report, I noted the following:
Victor Moses was in stunning form, and it was his invention and natural ability that broke the deadlock. Bursting down the right flank, he sold the Malian left back with a Cruyff turn before sending a delicious curling cross into the six-yard box. Elderson was on hand to finish things off, stooping low to head the ball home. The dominance continued as Mali's back line was again cut to shreds and once more, Moses was the architect. His cross field run created indecision among the defense, before his delightful pass set Emmanuel Emenike free.

This was an outing of creativity, of poise, of vision and, perhaps most importantly, of maturity.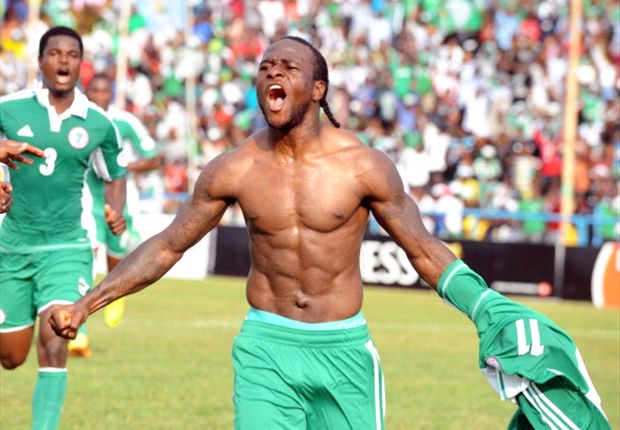 We were not just watching the headless chasing or speculative chancing of a young forward keen to make an impression—this was the performance of a man with aspirations to reach the top of his game, totally in command of his physique and his faculties.
Thank God he belonged to Nigeria!
There was clearly much more to come from the young forward. His value to the team was abundantly evident, perversely, during his absence from the side at the Confederations Cup in Brazil. With Moses and Emmanuel Emenike missing through injury, the supporting cast of Anthony Ujah, Joseph Akpala and Ideye Brown wholly failed to deliver—the Cup of Nations heroes were sorely missed.
At club level, Moses enjoyed the highs of a Europa League triumph, but also the lows of a (perhaps temporary) isolation from the Chelsea squad under returning boss Jose Mourinho. His impressive showings and increasing versatility at Liverpool, where Moses has been cast out on loan, should come as an encouragement to all Nigerians who lamented his changing fortunes at Stamford Bridge.
His future in the Premier League may be murky, but rest assured, Moses will always be ours.
It won't be easy for you all, the readers of Goal Nigeria, to decide on who deserves to be the nation's Player of the Year. If you want to reward majestic influence and composed inspiration, vote for Mikel. If you want to reward goal-scoring and difference-making, vote for Emenike. If you value leadership, security and consistency, vote for Vincent Enyeama.
If, however, you want to reward a player who has grown, alongside us all, over the last 12 months, a player who stood up to be counted when all others floundered around him, a player who took creative responsibility against Mali and who left the side blunt and impotent in his absence, then it has to be Moses. ---------------- goal.com