The Chelsea midfielder had another good year coming from the 2012 year when he won the Champions League
ANALYSIS
Babajide Alaka | Deputy Editor
No doubt,
Super Eagles
and Chelsea midfielder,
Mikel Obi
has had a wonderful 2013 considering the accolades he won and the hypes that he met.
From winning the Africa Cup of Nations tournament in February to scoring his first ever league goal for Chelsea, 2013 will definitely be a watershed in the career of the 26-year-old.
Goal Nigeria readers voted him as their best Nigerian player of 2012 and that was justified on the pedestal of winning the Champions League with Chelsea, but 2013 has been an even better year on all fronts.
So here we are again, December 2013, and Goal readers have another chance to vote and choose their player of the year in what could be a tight contest against players like Victor Moses and Emmanuel Emenike.


MORE ON
MIKEL OBI

| | | | | | |
| --- | --- | --- | --- | --- | --- |
| Club | Season | Games | Subs (ON) | Booked | Goals |
| Chelsea | 2009-2010 | 35 | 4 | 4 | 0 |
| Chelsea | 2010-2011 | 31 | 9 | 6 | 0 |
| Chelsea | 2011-2012 | 37 | 10 | 9 | 0 |
| Chelsea | 2012-2013 | 38 | 6 | 7 | 0 |
| Chelsea | 2013-2014 | 13 | 4 | 2 | 1 |
| Total | | 154 | 33 | 28 | 1 |
| Nigeria | 2006 -2013 | 51 | 3 | 7 | 5 |
Vincent Enyeama has literally been flying high in Ligue 1 and is now getting the accolades of a top class goalkeeper.
Victor Moses and Emmanuel Emenike complete the list and both had memorable years though the common denominator is that they won the Nations Cup together.
So can Mikel win the prize twice consecutively is the question? Did he do more in 2013 than the other four?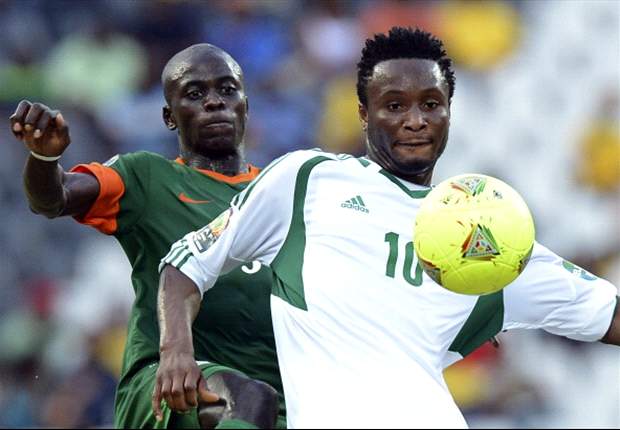 MIKEL OBI PLAYS DIFFERENT ROLES FOR CLUB AND COUNTRY
The one thing that football fans – Nigerian fans at that, agreed on last February was that Mikel was Nigeria's best player at the Afcon in South Africa, above the duo of Moses and Emenike, who played commendable parts in the surprise victory.
For Chelsea, Mikel played a bit part in winning the Uefa Europa League and their fourth place finish in the league and therein lays the conundrum.
For Nigeria he was a superstar but for Chelsea, he was more or less a bit part player.
But again, the argument will be that in the Super Eagles, he controls the 'orchestra' while at Chelsea, he is part of the 'orchestra'.
And that thought about being a bit-part player has been exacerbated after the arrival of his mentor, Jose Mourinho though Mikel has come out to say that his stay with the Super Eagles for the Fifa Confederations Cup did not afford him the chance of having a qualitative pre-season with the team which hampered his first team spot.
Recently he has started to play more even though his form still divides the Chelsea faithful.
This season Mourinho has preferred using Ramires and Frank Lampard as his twin defensive pivot though the duo and Mikel have started their last couple of matches together.
Mikel is seen to be assertive with Nigeria, seeking for passes that will open up the defence for the strikers to score but at Chelsea, he is 'expected' to just keep the ball moving while Ramires and Lampard constitute goal threats.
Mikel is seen as a shield and not a source of goals so most times when Chelsea are chasing a game, he is often the player that is sacrificed.
Though he surprised many by scoring his first ever league goal this season, he is still not seen as a cast-in-stone starter but for Nigeria, even when his form is off, he starts and finishes matches.
In conclusion, Goal's award is for the player that has best represented Nigerian football in the calendar year to the world and there is enough evidence that Mikel stood head and shoulders above any other Nigerian player for what was achieved on the pitch.
He won the Nations Cup, played well at the Confederations Cup, where he scored a wonderful goal against Uruguay; led Nigeria to qualify for the World Cup and had relative success with his club – winning the Europa League trophy and coming fourth in the EPL.
Does Mikel deserve another Goal Player of the Year award? --------------- goal.com