All this week Goal will be giving you the inside track on the 10 biggest transfers of the past year, and where better to start than the man Real Madrid paid €100m for?
SPECIAL REPORT
By Greg Stobart
Gareth Bale had to wait until the final afternoon of the summer transfer window before he was finally able to sit in the boardroom at the Santiago Bernabeu, sign his six-year contract and become the most expensive player in history.
The Welshman had earlier been introduced to his new supporters as he described his €100 million move from Tottenham as a "dream come true" against the backdrop of a picture of him in a Real Madrid shirt at the age of nine.
It marked the end of a long summer for Bale and the two clubs after his representatives, Stellar Group, were given a mandate in May to broker a deal from which their cut alone was worth around €11.5m.
The Spanish giants' interest in Bale was long-standing - they had first tried to sign him for more than €30m in 2011 - and president Florentino Perez decided to make English football's double player of the year his top target after losing out to Barcelona in the race for Neymar.
Despite Bale's oft-stated desire to one day play in Spain, Spurs had started the summer feeling confident of keeping their star man and even expected him to sign a new contract after he scored 26 goals for the club in the 2012-13 campaign.
WHAT IMPACT WILL BALE HAVE?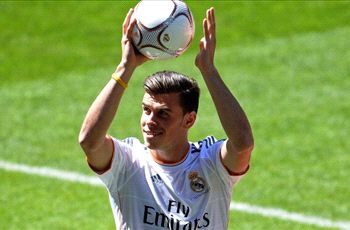 Esteve Calzada, sports marketing expert and CEO of Prime Time Sport, tells Goal's Alberto Pinero:


"The signing of Gareth Bale will help Real Madrid to maintain their media profile, but not increase it. He will help shirt sales in the UK, but not to the extent to justify an investment of

€100m

.

"Players with attacking ability like Bale have greater commercial pull, beyond the others. He is technically good, physically attractive and comes from the UK, which remains the greatest economic power in the world of football. He was a very popular player in the Premier League and will bring all that entails in Asia and other parts of the world.

"It is an awful lot of money but Real Madrid wouldn't have agreed to pay without being able to afford it. They could finance the deal. Only with time can we say if Bale was expensive or cheap for Madrid."

Daniel Levy, the Tottenham chairman, was desperate to keep Bale even after the Londoners failed to qualify for the Champions League and put together a stunning salary package that would have almost matched the incredible €18m-a-year before tax that the 24-year-old is paid in the Spanish capital.
Eyebrows had been raised at White Hart Lane by stories in the Spanish press, quotes from Real legend Zinedine Zidane - a regular visitor at Spurs matches last season - and increasingly frequent appearances on Marca TV from Jonathan Barnett, the chairman of Stellar Group.
But it was only in a face-to-face meeting between Levy and Bale during the Barclays Asia Trophy in Hong Kong in July that Spurs conceded they faced a real battle to keep the forward.
Bale pleaded with the notoriously tough chairman to agree a deal with Real Madrid, fearing the 'now or never' ultimatum from the Spaniards meant it might be his final chance to complete the move and to play alongside his idol Cristiano Ronaldo.
Subsequently, Bale claimed to be carrying a series of injuries and refused to take part in Tottenham's pre-season to avoid jeopardising the deal. He trained on his own, away from the rest of the first-team, and effectively went on strike at the end of August as he simply failed to turn up for training.
Levy had, by then, accepted that he would sell Bale, but only if Real Madrid paid a world record fee, telling Perez it would take £100m to sign the player.
Privately, Real Madrid were willing to pay almost €120m for Bale, but they were so exasperated by Levy's stubborn negotiating tactics - which included demands for a number of players in exchange - that they refused to pay more than €100m, still more than the world record they paid for Ronaldo in 2009.
Tottenham's stance was aided by interest from Paris Saint-Germain and, more significantly, Manchester United as the Premier League club tried to deliver new manager David Moyes a marquee signing to start his time in charge.
The Old Trafford club were prepared to spend nigh on €150m to land Bale, but the former Southampton man - who cost Spurs just €14.7m - had already decided that he would only move to Madrid.
THE REPLACEMENTS
Spurs' summer signings

Etienne Capoue

From: Toulouse
Cost: €11.5m

Nacer Chadli

From: Twente
Cost: €8.4m

Vlad Chiriches

From: Steaua Bucharest
Cost: €10m

Christian Eriksen

From: Ajax
Cost: €14m

Erik Lamela

From: Roma
Cost: €31m

Paulinho

From: Corinthians
Cost: €20.6m

Roberto Soldado

From: Valencia
Cost: €31m
Angered by Madrid's perceived arrogance, not least when they prematurely constructed a stage for Bale's unveiling at the Bernabeu, Spurs dragged out the deal as Levy looked to extract more cash from Perez while also ensuring the Londoners were in a position to sign replacements.
Spurs spent more than €120m on seven internationals before finally officially sanctioning Bale's departure, with the deal announced on the penultimate day of the transfer window, shortly after Andre Villas-Boas' side had lost the north London derby at Arsenal.
That
Sunday
, the two clubs spent hours arguing over the exact wording of the official statement, with the English team hoping to announce the fee, or at least the fact that it was a world record transfer to appease their supporters.
Real Madrid, in the end, convinced Spurs not to disclose the value of the deal, for which they paid around half up front, as they were wary of upsetting Ronaldo, who had already verbally agreed a new five-year contract.
There was a final sting in the tail for Tottenham as Real Madrid sold Mesut Ozil to their bitter rivals Arsenal in a €50m deal on the final day of the transfer window, despite indicating to the White Hart Lane club that the German would not leave at any price.
Real Madrid will certainly feel that they have got the most from their 'partnership agreement' with Tottenham, having signed Luka Modric in 2012 for around €30m.
Bale, for his part, finally got to live his dream. He had already been learning Spanish for two-and-a-half years and has settled in quickly in Madrid, with his family moving out to the city, as well as his agent Josh Barnett.
There were concerns among Bale's camp that his lack of pre-season would hamper his start at his new club - and that was borne out in his first few displays for Real as he looked off the pace, not least in his first Clasico defeat in Barcelona.
But he has quickly reached full fitness and hit his stride, forming a strong relationship and registering goals and assists in abundance as he looks to justify his title as the world's most expensive player. ---------------- goal.com