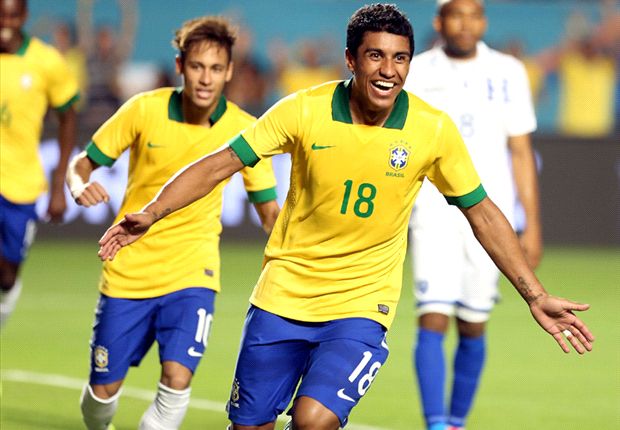 Paulinho: I feel important to the Selecao
The Tottenham Hotspur midfielder has been key to an impressive run of results for Brazil and is hoping to finish the year with a big victory over Chile in Toronto
Paulinho says he now feels an important part of the Brazil team.
The midfielder has started the
Selecao's
previous eight matches, with only injury keeping him out of the team that defeated Italy in the Confederations Cup prior to that run of games.
Brazil face Chile at Toronto's Rogers Centre on Tuesday evening, where Paulinho is once again set to play a vital role in central midfield.
"It's a difficult question," replied the Tottenham midfielder when asked if he has become as important as Neymar for coach Luiz Felipe Scolari. "But I feel important.
"I have to use these opportunities to show Scolari what I can do. I know the responsibility that's on me. I am ready and prepared to take it."
Brazil have lost just one of their previous 17 games and the 25-year-old went on to praise Felipao's approach since the 2002 World Cup-winning coach took over from Mano Menezes in November 2012.
"Right from the beginning, we have understood the way the coach wants us to behave and what he wants from the group on the field.
"We had time to work at it before the Confederations Cup. Football has no magic formula. It's a simple game and we kept it that way."
Paulinho was one of those who featured for Brazil the last time they met Chile in April, when a team of domestic-based players were held to a disappointing 2-2 draw in Belo Horizonte, and he is desperate for a better outcome this time.
"I see [the game with Chile] as another opportunity for us to show our football.
"This is the last game for the national team this year and it is important to finish the year with a big win."
Brazil arrive in Toronto on Monday having delayed their trip to Canada in order to continue to train in Miami, where it was around 20 degrees warmer.
Captain Thiago Silva will return to the starting XI after overcoming an injury that saw him training alone prior to Saturday's 5-0 defeat of Honduras and the PSG defender insists the
Selecao
will have no problems with the drop in temperature.
"All players here are already accustomed to playing this kind of temperature," he said. "It will not be a problem." ------------------- goal.com