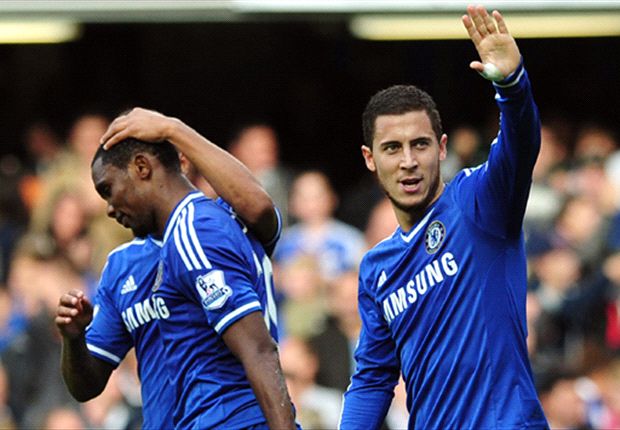 The midfielder missed a training session on Monday and was not even named as a substitute in the club's
Champions League
win over Schalke, though is expected back on Saturday
Jose Mourinho
has described
Eden Hazard
as a 'kid who made a mistake' after the midfielder was dropped from
Chelsea's
Champions League squad for missing a training session.
Hazard
was did not report to Cobham on Monday and was subsequently not named as a starter or a substitute in Chelsea's 3-0 win over Schalke on Wednesday evening.
Chelsea are now three points clear at the top of Group E with two matches remaining after a double from Samuel Eto'o and a goal from Demba Ba was enough to see off the German side at Stamford Bridge.
When asked about Hazard's situation, Mourinho told reporters: "I don't want to lie. He is not injured.
"Did he forget the time? Look, he's a kid. Kids make
mistakes
and fathers have to be clever in the way they educate their sons.
"He didn't play. He wanted to play. He was sad because he didn't play. We won without him."
Mourinho has confirmed Hazard will return for the club's fixture against West Brom on Saturday.
"On Saturday [against West Brom], he is back. So, end of story," said Mourinho.
"Let's forget Eden because I didn't select him and, on Saturday, he will be with the team. We know his talent. He will be on the bench or playing, but he will be in the squad, for sure." ------------------------ goal.com